TimmyP,
These are your flight details (not sure why the flight numbers are different?):
Outbound: Dep EMA Mom 16:20, Arr LPA 20:40, Boeing 757-204, Flight No: TOM6541
Inbound: Dep LPA Mon 21:40, Arr EMA Tue 01:50, Boeing 757-204, Flight no: TOM6542
This is a rough routing....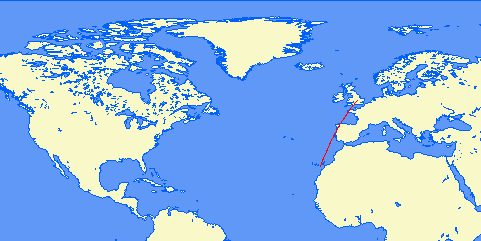 Distance: 1864 miles
....although its more common to head on more of a southerly heading than is shown on this routing, across the Bay of Biscay, through Portugal and entering the Atlantic just to the west of Faro rather than down the coastline as shown.
Have a great time,
Darren