Hotels in Famagusta, North Cyprus 1
of 2 hotels in Famagusta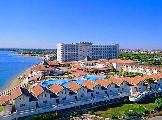 2
of 2 hotels in Famagusta
3 Reviews
Traveller Rating
Excellent

0

Very Good

0

Good

2

Average

1

Poor

0
Review Overview
Eating Out

Nightlife

Beaches
Major roadworks in progress at time of visit which did not help cleanliness.
Resort is close to Salamis Bay and is an excellent base from which to tour by car (to Bogaz, famagusta,The Karpas peninsula etc).
You would not want to stay here without hiring a car as Long beach is (as name suggests) just a long beach off a main road.
The beach adjacent to hotel is very good sand with smooth rocky outcrops.If you want to stay by pool and confine your activities just to beach then its ideal for you.
it was not a resort, just the one hotel on its own. There was no entertainment only a guy singing Turkish songs in the dining room.
As its their piece of beach I would have thought that the occasional sweep of the beach and a general tidy up would be done daily. We didn't see any of this happening.
We would not visit this hotel again although we did meet some nice people, who were of the same opinion as us.
They have a courtesy bus to famagusta daily. Out at 10am, back at 1.30pm.Taxi to famagusta costs 20TL each way.
The 'resort' was the Long Beach Hotel, it is not in a known 'resort' itself. But all beaches in North Cyprus are affected by sea debris from countries opposite. Only some hotels clean their beaches such as the Long Beach Hotel.
Location
View Larger Maps