Hotels in Cala Mondrago, Spain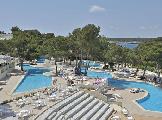 1
of 1 hotel in Cala Mondrago
5 Reviews
Traveller Rating
Excellent

3

Very Good

2

Good

0

Average

0

Poor

0
Review Overview
Eating Out

Nightlife

Beaches
The resort was very family orientated, which was great! There were no noisy groups of teenagers anywhere and all the entertainment came to an end around midnight each night - which I think was perfect. The resort was clean, tidy and had some beautiful trees/flowers all around. It had a small beach, that never got that crowded. Although I'd guess it'd get a lot busier in July and August!

It's quite out of the way, but for 11 euros, you can get a cab to cala d'or - which is full of shops/bars/restaurants.

I highly reccomend this resort if you're a family!
The nearest resort with shopping. restaraunts, pubs etc,is Cala Dor. It is a lovely place to visit and we went two or three times. There is a pretty marina where we stopped to have a drink and enjoy the scenery.
The beach was fab you had you own pravite little cove it had a beach bar with cold / hot drinks and served lovely food so you didnt have to worry about missing out on ai , as some hotels i have been to beach is at a distance so you miss out on free drinks/food .
The club Cala Barca is a resort in itself being the size of a small village.

The nearest town of Cala D'Or is very nice with plenty of shops and restaurants. You can get there by taxi at a fixed price of 10 euro or get on the road train for 2 euros each. We didn't spend much time there as there was no real need to leave the hotel complex.

The beach at Cala Barca is small bit pretty although it could be cleaner. Also beware the jelly-fish.

This resort is also on quite a slope so if you have a younger child I would recommend taking a buggy even if you no longer use one at home. However there are also a lot of steps so if you have a very young baby still in a pram this could be difficult. There are ramps but you tend to have to make diversions to get to where you are going using them.

This hotel/resort does not get a great deal of English holidaymakers so if you like to hook up with other English families this may not be the place for you. We found the other, mainly German visitors to be very polite, courteous and friendly.

We would definitley consider this resort again but not in high season as I could imagine that it would get vey busy.
The entertainment in this resort is fantastic. The work that is put in to the shows is unbelievable. The complex has its own private beach and also a short walk away is Cala Mondrago beach with two restaurants and small gift shops. The resort itself is spotless and there is always work going on to improve it.
Location
View Larger Maps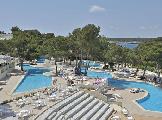 Other popular destinations