Hotels in Cala Vinas, Spain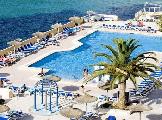 1
of 1 hotel in Cala Vinas
6 Reviews
Traveller Rating
Excellent

0

Very Good

4

Good

0

Average

1

Poor

1
Review Overview
Eating Out

Nightlife

Beaches
beach cleaned daily was very good
Cala Vinas is about 15 - 20 minutes stroll to Magaluf but is a world away from the general noise and bustle of Magaluf. The resort is very clean.To be honest, there isn't too much in the area around the hotel - a few bars, restaurants, supermarkets, hairdresser, and other hotels etc - but I just loved it, going for leisurely walks, daydreaming in the sun. Even though I was all inclusive, I always pop into local bars for a glass of vino ( or two) or buy bits and pieces from supermarkets, I think that is only fair to support the locals.

The beach is small with free access but charges for sun loungers / sun shades. The sand was golden and soft.

There is entertainment in some of the local bars but I didn't leave the hotel in the evening so apologies, I can't give a full appraisal of that aspect.
The Cala Vinas area is quiet and has only a few hotels, there are a couple of shops and bars nearby.

Should you want to go into Magalug it is a 20min walk and return by taxi 5 euros including tip so not too bad.
Unfortunately run down, pot holes, a couple of eating houses, a chinese, and close to the casing.

in secluded area but still a cheap taxi ride to town.

All fine, if the hotel was good, but now one need to actually escape to eat, or be entertained.....

beach is still fine situated in a quiet cove, except on a Sunday when the locals arrive.

Return only when the hotel and the current client's are gone forever !
The resort is really a residential area with 2 large hotels within walking distance of Magalluf. The resort entertainment score is low, but that isn't a critiscm as that was fine by me. The bars had english TV on showing football, coronation street etc.It had a nice villagey feel as it was so small. There was an internet cafe, a couple of small supermarkets, a shop selling excursions etc, hairdressers, car hire etc.We hardly went in to the main town as we liked Cala Vinas.
Resort was small with 4 restaurants (1 chinese) and a couple of supermarkets. These were fine if you didn't want to walk too far.

Magaluf was about 25-30 minutes walk away which wasn't too bad in day light but don't attempt it after dark as it is quite lonely.

Beach is two minutes walk from hotel and is small but beautiful. Watch out for the jellyfish, there are a lot of them.
Location
View Larger Maps
Other popular destinations