Hotels in Portals Nous, Spain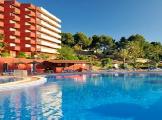 1
of 1 hotel in Portals Nous
7 Reviews
Traveller Rating
Excellent

0

Very Good

3

Good

1

Average

1

Poor

2
Review Overview
Eating Out

Nightlife

Beaches
The resort was lovely, gorgeous marina and nice restaurants and coffee shops. The beach is excellent, very small but never crowded and very hard to find. Well worth visiting.

Not much in the line of night time entertainment available. It's more suited to an older couple with us typically going for dinner, have a drink after dinner at the restaurant and back to the hotel.

No clubs close bye.
Portals Nous is a small village with a lovely marina.There is a small selection of bars and restaurants in the location.Marineland is located a walk away.Palma Nova and Santa Ponsa is only afew minutes away in a taxi or bus.
These is a small beach nearby.
nothing to do with kids no promenades with shops etc.marina is about it and vv pricey..got sick of going to Joses up in portals nous every night for dinner but it was the best place to go.found the beach beside marineland v dirty, picked up big piece of broken glass from water right beside were my kids were playing.nice beach the other side of marineland which was very nice think it was private but nobody said anything to me.(no sunbeds on it though) mainly spanish on it too.
This resort is not for the young looking for a good time in pubs and clubs, it would be more suited to families with lots of kids!!!

There is a marina which is the best and only good thing about ths part of the island.

I would never go back or go with First choice again.
The resort itself is very small the ony entertainment out side the resort is marineland along with a walk down to the Marina to see how the rich live.

There is one beach near Marineland which is very rocky and wouldn't be recommended for young kids also there is a man made beach about 15-20min walk away which we didn't see.

We went to Palma Nova beach instead by taxi anything from 5euro to 6.80 which we were charged some tend to add on in price always the lady drivers we found dearer!! Two sunloungers on beach 7.50
Bit of a posers paradise, good restaurants, nice bars, plenty of rich men and divorced women on the pull.

Age group 30-60 mainly.
Portals Nous is very small indeed - basically on the bend in a road between Palma Nova and Palma. There are a few good bars/restaurants and a lovely marina but not much else.

There is a lovely quiet and very clean beach which is also well used by the locals. Portals Nous is basically a five minute taxi ride from Palma Nova if you are looking for livlier entertainment and buses run direct about every 30 mins throughout the day and the last bus back is after 11.00 pm.

It only takes about 20 mins on the bus to Palma and again the buses run about every 30 mins and run quite late and if you missed the last bus, a taxi would not be out of the question as fares are very reasonable but ask first before getting in as they can vary from taxi to taxi.
Location
View Larger Maps
Other popular destinations