Hotels in Aguadulce, Spain
1
of 2 hotels in Aguadulce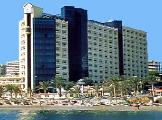 2
of 2 hotels in Aguadulce
1 Review
Traveller Rating
Excellent

0

Very Good

0

Good

1

Average

0

Poor

0
Review Overview
Eating Out

Nightlife

Beaches
You can look round this place in an hour. Nice promenade but boring on the 10th walk down it.

Young ones dont bother to come -theres nothing here believe me likewise Roquetas, Almerimar etc try Lloret or Salou instead.

Hotel totally outshone the resort and the locals including Spanish guests. On no account try getting on a bus if you dont want abuse or the odd elbow in the face-locals put a huge effort in being rascist (to all Brits)take an organised bus or taxi at any price. That is if you must see the local 'attractions'

The pleasure of a walk will take you past miles of new build bungalows and high rise hell where the locals live and not much else. Between the sea and mountains are only bricks and plastic veggie tunnels.

If you want to be different in your choice of resort stay at home rather than here.

Location
View Larger Maps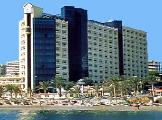 PortoMagno Hotel
Aguadulce, Spain
Great hotel-entirely in the wrong resort. All room…
Other popular destinations