Hotels in Cadiz, Spain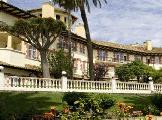 6 Reviews
Traveller Rating
Excellent

0

Very Good

1

Good

3

Average

2

Poor

0
Review Overview
Eating Out

Nightlife

Beaches
The town of Algerciras is a proper working Spanish port. As such it does not cater for holiday makers. We could get no English newspapers and no English cigarettes. This is not a problem if you are prepared to travel to near by seaside resorts. A trip to Gibraltar is a must but it is a lot cheaper travelling yourself. The hotel staff will book you a taxi to take you to the boarder (dont forget to take your passports) which costs 20 euros, then you walk across and get a bus into the town which costs 90 cents. Trips to the rock and dolphins are available in the town and cost just 16 euros. Also doing it this way you are not restricted to times and can stay as long or as little as you like.
Algeciras is a busy container port but has a lovely town with beautiful shops. Learn some Spanish as this is not a tourist area and even ordering a coffee can be interesting. The buses are great for getting around. 40mins to La Linea which takes you to the Gibralter Boarder costs £1.20. and runs every half hour. If you need to read an English paper the train station was the only place we found that had a delivery at 11.30. Buses and trains are clean and efficient as are the staff that man them. Geteras beach is 10mins by mini bus from the hotel and is beautiful but you may find yourselves just chilling round the pool. This is a really relaxing holiday resort.
Algeciras is a busy port town with a lot of local charm if you spend time walking around looking for it. The beaches are a little way out of town.
Great places to go to, near Gibralta, well worth a visit.

Food is great, loads of entertainment
The journey from Malaga airport took over three hours. Algeciras is not very pretty, it is a working port. You can catch a ferry to Morocco. The train station and buses are 10 min walk away. Tarifa can be reached by bus 1 euro 54, and is worth a visit for the beach and the old town. The beach nearest the hotel was 30 mins walk away, walk down the drive to the main road and turn right. The surrounding towns are not commercialised. The bus to Gibraltar is very cheap, taxis were expensive. Try this holiday if you want something different.
We went on a few day trips to Gibraltar to see the nonkeys and dolphins, and also to do some shopping ..... loads of shops. Because we were all inclusive and the hotel catered for us at night we only went out a few times to try some different restaraunts .... try Mama Mia's Italian restaraunt as it's very cheap and the food is wonderful. We found the resort to be clean and the people to be very friendly. The beach was also gorgeous and very clean.
Location
View Larger Maps
Other popular destinations