Hotels in Cala de Mijas, Spain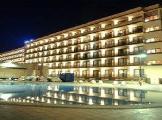 1
of 1 hotel in Cala de Mijas
14 Reviews
Traveller Rating
Excellent

0

Very Good

6

Good

5

Average

2

Poor

1
Review Overview
Eating Out

Nightlife

Beaches
Lovely small town. Well positioned for touring along the Costa Del Sol. We enjoyed a meal at an Italian restaurant and the beach was alongside our hotel. Pretty little local church. Plenty of shops and a number of bars. A quiet change from the bigger resorts
A very quiet area which mainly seems to have residential area surrounding the hotel.

If landing in Malaga and travelling during the day, I would recommend catching the local train to Fuengirola, and then a taxi to Mijas Costa. Cost for two was 15 euros, instead of quoted 40 euros with the entire journey by taxi.
La Cala Mijas Costa is a fairly quiet, well-kept town, mainly residential but also has some apartment complexes and only one large hotel.It is extremely clean, beautifully landscaped.The local community obviously take a great pride in the place. Several good restaurants (try the Indian one near the hotel) and friendly bars (Biddy Mulligan's worth a visit or two!)
Excellent cheap transport, frequent buses to local large resorts.
It rained for the whole weekend, but the resort was very nice and ideal for a quiet holiday.

The beach is quite nice with lots of course sand.There are lots of little shops and bars all with friendly staff.

Worth a visit is the local racetrack about a 5 min taxi ride away

A nice resort la Cala Mijas friendly people a park just up the road for the kids and some nice bars in the town and a Chinese up the road if you do get bored with the hotel food.

Bus routes to Fueringola and Marbella 5 mins walk away.
Cala de Mijas is a lovely village with lots of restaurants and pubs. We ate out on several occasions, mostly Indian and the quality was excellent. There is no shortage of places to eat out.

We were not too bothered about entertainment as we are not night owls and knew the village would be a great place to chill out for a week - which is what we did. We enjoyed long walks on the beach and short drives into the hills surrounding Mijas. A very enjoyable holiday.
Thought the resort was delightful. Not bustling but just what we needed. Good quality pubs bars and restaurants.Very clean, very neat and tidy.
La Calla. Mijas Costa.

A nice, typical costa del sol resort, unfortunately spoiled by the closeness of the main arterial road.

Adequate bars and restaurants offering some variety.

A very course sandy beach, which could be quite dirty at times.
Loved La Cala and unlike previous reports we were not at all disappointed with the choice of restaurants. Had a great meal at the Thai restaurant behind Super Sol and another at the Italian but there is lots of choice including Indian, Chinese and plenty of Spanish restaurants. A few English as well which we tend to avoid when on holiday but they did seem popular.

The village of La Cala seems to have retained its old fishing pueblo feel and if you no longer want to "club it" then highly recommendable.

Plenty Golf and we like that, plus, a real bonus was the night out we had at the race track just 10 minutes away by taxi.

All in all we like La Cala very much and will be back.

Helen
We visited La Cala at the beginning of March when it was extrememly windy and not particularly warm. The beach looked very grey then. It is probably great in the height of the season so don't be put off!

The town has a nice promenade and plenty of small shops and businesses. There is a large supermarket near the centre where most commodities can be found. English and German newspapers are available at two newsagents on the day of issue after approximately 10.00am.

The main Post Office is situated near to the Gran Hotel Costa del Sol but don't bother to write postcards if you want them to reach home before you do! Ours took two weeks to arrive in the UK.

Several trips are available from the resort and a local bus to Fuengirola and Malaga runs regularly.
Location
View Larger Maps
Other popular destinations