Hotels in Calahonda, Spain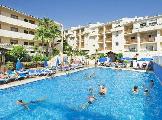 1
of 1 hotel in Calahonda
3 Reviews
Traveller Rating
Excellent

0

Very Good

1

Good

1

Average

1

Poor

0
Review Overview
Eating Out

Nightlife

Beaches
The site is up a hill, and is virtually self contained as in the immediate vicinity there is very little to do. It is within a residential area although we did find some half-decent walks.

Quite a walk down to the 'beach' which we did the first night we were there, only to find it virtually non existent. Just not worth the bother of going down.

There is a row of bars quite close by, but that's about it unless you wanted to walk down to the main area where there were more bars and restaurants. There is also a caravan site in Calahonda, which housed a lot of Brits who you would meet up with in the evening.

If you walked down the hill, there was a small supermarket - useful if you ran out of anything as the on site shop was expensive and had limited opening hours.

If you don't want to sit by the pool all day, would highly recommend hiring a car. Out and about the Costa del Sol has a very good road running roughly parallel to the coast line, and Calhonda is very roughly midway between Malaga and Marbella. Would particularly recommend visits to Mijas (beautiful views but a bit hairy going up the side of the mountain),Benalmadena and Puerto Banus (big boats, designer shops, and VIP areas in the bars). Marbella is quite close by as well, but couldn't park till we found a car park that charged by the minute!

We will definitely go back to the Costa Del Sol, but not to Calahonda.















The resort of Calahonda is quite a residential area, but there were quite a few bars and restarauts, we didn't go the beach at Calahonda but the near by beach of Cabapino was excellant.
It is located in Mijas costa and Calahonda.It is mainly a residential resort where numerous villas and apartments are being built, there seeems to be no limit where they build.

It has its typical shops you would find in a spanish resort, supermarket`s, etc.

A long run of restaraunts near the complex offers you different meals every night if you wish.

Location
View Larger Maps
Other popular destinations