Hotels in Kerkennah, Tunisia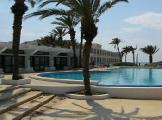 1
of 1 hotel in Kerkennah
12 Reviews
Traveller Rating
Excellent

4

Very Good

5

Good

3

Average

0

Poor

0
Review Overview
Eating Out

Nightlife

Beaches
Basic hotel in the best surrounding you could wish to see. Amazing. i have been there many times in the last twenty years and well why i would i keep going if it was rubbish. Basic food but you go to relax and enjoy the sea pool and weather. all of these are perfect. People fantastic and we have many friends here because of this. look at www.silverspooninmouth.com for more information and see if you don't agree, this is mostly about Sabers souk shop. he is a very helpful local and provides many interesting facts and tours on the island. enjoy it it is simple unadulterated relaxation. we went in June and the hotel accomodates 250 and there were 30 people there. Quiet. especially as most were on trips, the beach or indoors.snorkelling and windsurfing is possible and we did it everyday. go and enjoy
beach was really clean and the pool was cleaned and maintained regually.
The travelling from the airport to this resort is the only draw back. 2hours in a minibus & then 1.25 hours on a ferry(do not use the toilets, they are an enviromental disaster area.) The people on Kerkenagh are very friendly & try to do as much as possible for you.
In the resort you must take Capt.Freddie's sea picnic,(try and avoid breakfast that morning)The amount of food and drink available on his vessel is great & tastes fantastic.
The dolphin sea picnic was very disapointing(not worth the money). If you go give my best to sous sous.He's brilliant.
There isn't a great deal to do outside the hotel but once you get there you totally relax and don't always want to leave it anyway! There is a shop at the hotel which sells a whole host of things and you must make a trip to Ali Babar's shop which has so many wonderful gifts and souvenirs you're sure to come away with something and he also makes you a delicious cup of English tea! We also got to dress in traditional Kerkennah costumes which was great fun! You can visit this by taxi or by horse and carriage ride which we suggest is by far the best way to go. Sou Sou was our guide such a genuine funny man and what he doesn't know about Kerkennah isn't worth knowing! You are taken all around the island too. Don't miss a sea picnic with Captain Hedi again a lovely man who is passionate about his boat and will host a wonderful day at sea for you with delicious food and entertainment. A leisurely walk up to the fort is also a must where you will find Mohamed who will warmly welcome you and make you a cup of mint tea before showing you around.
We also went on the 2day Safari. Our guide on this occasion was Habib, again a man passionate about Kerkennah and only too willing to tell you all about Tunisian history. We saw the sunset over the Sahara and the sun rise over the salt lakes absolutely amazing, as was the camel ride.
The beach was never crowded, how many places can you say that about in August? The sea was lovely and warm, just like getting into a warm bath!
I would say to anyone who's not sure, if you don't mind a lot of travelling to get there give it a go it's a small piece of paradise.

The Area Was Absoloutly Amazing Enough Said x
This is a beautiful resort and very quiet but plenty to do out and about. We went on a dolphin trip organised by our rep and although we only saw a couple of dolphins it was worth it to meet Miriam & Abdula who made it all worth while. Miriam fed us really well and she and her husband were fantastic.

Another place to go is Ali Babas if you like an Alladins Cave, you can get there by horse and cart with a gentleman called Sabar who is outside the hotel gates nearly every day and he is a gentlemans gentleman. He speaks perfect english and has you in stitches. Ali Baba whoes name I forget is fantastic, he will make you a cup of English tea to die for and is so friendly and believe me you will come away with so many things because the prices are unbelievable.

If you want to go on a sea picnic book it through the rep and ask to go with Captain Hedi, we did not do this trip but everyone who went on it had a really good day out.
The only problem with this resort is that it is such a long journey to get there, although flying time is only 2hrs 50mins it is then a 2hr journey by road to the ferry with a short stop half way then just over an hour by ferry and another 25 to 30 mins to the hotel. The reason for this is they stopped flights into Sfax Airport which cut down the journey time considerably. If it was not for the long journey we would have gone back to this resort.
Resort was a clean natural environment.

A few places to eat and drink if you fncy a night out of the hotel. Cercina excellent for a weekend, though if you want to mix with the locals go out after 9.30pm for your meal and drinks.

Beach was lovely, like paradise! I didnt know places like this still existed.

Will be returning next year and for many years to come!
The resort is VERY clean but the beaches tend to be a bit littered. The entertainment is varied and quite good. Some nights it came from the holiday rep with Bingo, Belly dancing and team games. Other nights we were treated to a Fakir,Fire-eater and Folklore, a traditional music and dance group (I nick-named it squeaky music). There is a large screen TV in the bar, and the staff are very happy to tune it to any program (especialy Football or Motorsport) that you want. We were there when the World Cup Finals were being played - HEAVEN!!
I very rarely go on holiday to the same place twice except here, we (all 4 of us) arrive for the 3rd time (5th for our friends) 4th July this year (2007). What more can I say?

I will certainly return to Kerkennah, and if Panorama return to their previous journey of flying to Sfax I think a great many others will to. Many of the people there were regulars coming every year.

The locals provide an excellent service in cruises and we joined Capt Freddie on 2 excellent trips to see the Sunset and have a Sea picnic. This has been one of the best holidays my family have had and we will BACK
Set on a private beach, cleaned on regular basis. Great security with no strangers wandering in/out without being challenged by the guards. Perfectly safe for kids/teenagers/single women.

Lovely excursion - dolphin trips, sea picnics, sunset cruises available to book through the hotel.

Outside - camel/horse rides, horse and carriage rides.
Perfect place for people looking for a truly relaxing, quiet holiday - only 1 souvenir shop and nothing else.
Perfect for me and my daughter and many regular guesta who have been going there for years and years.
Location
View Larger Maps