Hotels in Cape Greko, Cyprus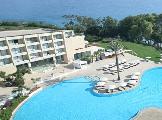 1
of 1 hotel in Cape Greko
9 Reviews
Traveller Rating
Excellent

2

Very Good

7

Good

0

Average

0

Poor

0
Review Overview
Eating Out

Nightlife

Beaches
The resort was good. I didnt get to see much of it as we were planning our wedding but what we did see I will be going back. I have 48 guests come over and they all seemed to like the area.
Great location for both Ayia Napa or Protaras. Konnos Bay is dominated by The Grecian Park Hotel but there are a couple of restuarants and bars.

Very clean area and not much building work going on.

Entertainment here is very poor but with Ayia Napa and Protaras so close that doesn matter in fact it is quite nice just to stop in the resort and chill out.
Konnos Bay's beach is excellent. They have yellow floating sunbeds on the beach which you can take out to sea. The sand has a very slow gentle slope, which means you can walk out some distance and is safe for younger children with very little tide movement.

The beach is very clean and a lovely golden sand.

The only entertainment, other than in the hotel, seems to be Pirellis Bar a few yards in one direction, and Cape Bar a few yards the other way. Both do karaoke, with Pirellis doing a more typical Greek Night than the hotel does.

There are 2-3 restaurants around Grecian Park if you choose B&B. We did try these once or twice, but found them very mediocre and chose to travel to Protaras or Ayia Napa for more variety to eat if we weren't eating in the hotel.

Konnos Bay is very schenic and we didn't hire a car so it is difficult to comment on the wider resort area.
Protaris is 10 minutes from Ayia Napa by taxi, it is much more family orientated although still has plenty of bars and restaurants and plenty karaoke bars for those who like to enjoy a laugh. The town itself is very clean and has a nice relaxing vibe to it. I love the place! You can make Protaris anything you want really, if you want a nice quiet sedate holiday then it's easy to achieve that, if you prefer a bit of pup crawling and a few laughs you can do that as well, the kids will love it also. If you really want to let your hair down then Ayai Napa is always just a short taxi journey away, so in my opinion if you are going to this part of Cyprus then its best to go to Protaris where you can enjoy the best of both worlds. Enjoy Cyprus, it's hard not to!
Konnos Bay and Cape Greco were beautiful as you might expect since they are part of a national park. Nearby Protaras was rather more like Blackpool but did offer an amazing range of eating experiences. The watersports on offer were great and reasonably priced.
All excellent great for families
The resort was peaceful and relaxed. A lovely place to chill out.
The resort we stayed in was 5 minutes each way between Protaras and Ayia Napa so the biggest decision was which way to go. Both towns were brillant for entertainment and cleanliness was high.
Cyprus has similar standards as Britian. The beaches were fantastic especially nissi bay and protaras and the beach next to the hotel. There was plenty to do for the young and old
Location
View Larger Maps