Hotels in Minehead, England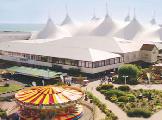 Don't go, no really, do not go.
If you encounter any problem and have reason to complain, be very aware that they may have a hostile approach to clients, be prepared to be browbeaten DONT take no for an answer as you have consumer rights it is most unlikely to have your complaint dealt with properly by management as they seem to all close ranks. You write to the CEO at Hemel Hempstead and give a reasonable timescale for resolution and state what you expect to be done to satisfy you.
1 Review
Traveller Rating
Excellent

0

Very Good

0

Good

0

Average

0

Poor

1
Review Overview
Eating Out

Nightlife

Beaches
my holiday at bulletins minehead last weekend, was totally ruined by the attitude of customer care and management . they have blatant disregard for and contempt for their clients who are merely bringing a problem to their attention, they treat customers like liars, talk over them, talk at the same time as them, refuse to offer any solution, refuse to give addresses and CEO at head office..

they make you feel like you have been hitting your head against a brick wall
Sir Billy would be most unhappy as the company was built on customer comfort and service and is being ruined by ruthless, jobsworth, bullies.

on the plus side is good food and friendly catering staff who couldn't be more helpful, if i was CEO they would be in charge of customer care and the management at customer care sacked.

i am writing to the CEO to complain as no good involving their management as you would get no where
Location
View Larger Maps
Other popular destinations