Hotels in Benitses, Greece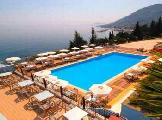 14 Reviews
Traveller Rating
Excellent

2

Very Good

3

Good

3

Average

6

Poor

0
Review Overview
Eating Out

Nightlife

Beaches
The resort overall was wonderful, as there were always gardeners watering the plants, people sweeping the floor, bartenders cleaning the sides and collecting glasses, someone was always walking along the beach collecting rubbish to keep it in tip-top shape and everyone was always doing their job. However, the beach wasn't what we expected as it's more pebbly than sandy, so I recommend you wear footwear in the sea otherwise you're going to be suffering from bruised feet for the rest of your stay! Although, it is extremely close to the hotel, so it's just what we expected to a certain extent!
my adive is take sum beach footwear because of the pebbles
The resort was incredibly clean and the entertainment was great.
Even when the animation team did not put on a show at night, we had a great greek night and a night where two singers would come and sing to the all time favourites.
The beach was nice, however not nice to the feed.
It was a shingle beach and many people took to buying/ bringing shoes in which they could walk on the beach and in the sea without hurting their feet.
However that never put me off and therefore i would recommend anyone to go to this hotel.
I would certainly visit this resort again.
Benitses is a quiet resort, I was told that it was once the party town of Corfu but they moved the revellers down to Kavos! It is a nice clean town and does have a good variety of restaurants and bars to visit. I recommend Cheers bar, Kikos is a great guy, very welcoming and reasonably priced drinks!!! There is also a very good Pizza place that does stone baked pizza! Ideal family reosrt, chilled out, not too much hustle and bustle!!!
The hotel location is extremely poor and it is for this reason that we would not go to this resort again. It can be very restricting if you do not have a car. We attempted to travel into the nearest town (Benitses), but again we also found this to be very quiet. If you are after a relaxing holiday then this is the best place to go, however we did not feel it was suited for young couples.

After a few days we were craving civilisation so we booked a trip into Corfu Town, which is a definate must. We highly recommend you complete this journey during the early/late evening as other couples who took the bus into Corfu Town during the day, found the city to be quite packed.





Benises is now a very quiet fishing village with the standard tourist style shops the standard 2 English sky sports bars and a mix of taverns some good some bad. This location is not for the young looking for clubs
For this resort report please take it as the Iberostar Regency Beach hotel report as the hotel is 2 to 3 Kilometers each way between 2 small resorts. It has it's own small shingle beach which is kept spotlessly clean with wonderfully clear water.
Quiet resort.Not for the Young and Lively.Pebble beaches,but nice shallow waters.overall really nice resort.
We visited Benitses only a couple of times during our stay, it is clean and though not a really lively town there are plenty of bars and places to eat. 'Cheers' bar was great, good food, good price and Nico who owns it even has a free pool table for the kids. Worth a visit!
i can't really comment on the resort of benitses, due to the lateness of the holiday, it seemed to be mostly shut.corfu town though was a perfect day out for shopping and sightseeing.i must also add that a boat trip with leon should not be missed,wine and ouso from his garden flows freely.
Location
View Larger Maps
Other popular destinations