Hotels in Garitsa Bay, Greece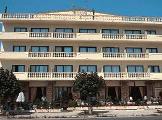 1
of 1 hotel in Garitsa Bay
3 Reviews
Traveller Rating
Excellent

0

Very Good

1

Good

1

Average

1

Poor

0
Review Overview
Eating Out

Nightlife

Beaches
The resort was very quiet but it was late September, early October. We found an excellent taverner, don't know the name but it opposite Saki's bar.

Can't comment on the beach as we didn't use it.
The resort, is great being right on the coast with a view of the old fort in corfu town a walk along the esplanade to Corfu town takes about 20 mins and you can have a rest on the sea wall if you need a rest.

There are local restaurants in the area and a shop for drinks, sweets cigs, choc, and phone cards ect, also it is only a 15 min walk to the airport from this resort should you prefer a taxi it will cost around 10 euros.
You may have seen other reviews talk about airport noise. This was only ever noticeable at night, just before bed, and only if you were listening specifically for it! Some people are far too fussy!
Corfu Town is about a 15-20 minute walk, and easily found by following the Garitsa bay round towards the Old Fort (cant miss it!) The bay was beautiful at night, and we had many a romantic walk along there. As you get to the fort, there is a funky bar with open top terrace and resonable priced drinks which makes for an ideal stop off/half way point into town. There are so many beautiful bars in Corfu town, you'd be hard pressed to find a tacky one
Location
View Larger Maps
Other popular destinations