Hotels in Kalami, Greece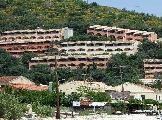 22 Reviews
Traveller Rating
Excellent

12

Very Good

5

Good

2

Average

3

Poor

0
Review Overview
Eating Out

Nightlife

Beaches
The apartment pool was of a good size and was nice to have right on your doorstep. The apartment was walking distance of a small selection of restaurants, bars and a few shops. You can get fresh baked bread/rolls/cakes in the morning, good selection of wines and other items.
Nice pebble beach, clean and quite. 3 beachside restaurants, some bars and internet access in at least 2 places (local charge). Annoying but put up with a few dozy wasps which don't bother you much and get some mozzie spray for the evenings.
This is a very small village, don't expect too much, think rustic and basis and enjoy yourself.


The resort as a whole would be described to me as a paradise. You will wake up in the morning to fresh air and a relaxiong day ahead. The resort alone makes you feel like you are at home although you feel like you are leaving home when head to corfu airport. The sea is very clean and warm especially mid day. Thre boat hire offers a wide range of boats with very assistive staff working on them. For anyone planning on goin ot corfu for there first time, i would gladly say as a 18 year old it is a very good place for relaxing yet fun is definalty in order.
Kalami is paradise ,crystal clear calm waters in the bay, spotless pebble beach. Veiws to die for. If your after a wild week away avoid. If your after peace and tranquility with wonderful food, then this is the place for you. The restaurant just on the beach opposite the apartments is by far the best, for both food and service. Strict veggies will have no problem either. Avoid the white house restaurant though, too pricey and miserable staff shame because it is a wonderful location.
these apartment's and facillitie's are just brill.if you go there once you be back again i promise you that
kalami is the greatest place in the world
A lovely little bay , perfect for a relaxing holiday.If you like lots going on then Kalami is not for you .If on the other hand you want a lovely peacefull and relaxing time with good food and nice people then I would recommend it.
The beach is pebbles and drops away quite steeply , there are 3 tavernas .

Kalami beach is beautiful. I wish now that we had come to the beach earlier in holiday and not just for last 2 days. It's all pebbles, not a spec of sand in sight. This is only a problem if you don't have the right shoes. There is a shop next to the Kalami Taverna on the beach that sells Dive Shoes for 7EUR each. Get some, they are perfect for the job.

There are sunbeds laid out on beach but if you use them you will have to pay for them. They charge 3EUR per sunbed plus 3EUR for an umbrella if you wish it.

If you walk into the sea the ground gently shelves for 10-15 ft or so then drops away. Sea is beautifully clear, we even saw a small octopus :-) I found snorkeling for the first time, which was fun. Soon realised that it came with sunburn thrown in - watch your back!!

There are 2 tavernas on the beach. The Kalami taverna is nearest to the A&A. Reasonable food at a reasonable price. The next one is Thomas's which we had heard a lot about. We went there one night and waited for 45 minutes for a table only to find that the food was very similar to the Kalami taverna and priced about the same. A bit disappointed after the hype but food was OK.

We never tried the White House taverna but a couple we met had and they said it was expensive. We also never did the trip to Nicholas's in next bay, but same couple did and said it was the best night they'd had. Wish we had tried it now. We actually found the food in the A&A to be the nicest and best value for money on the resort.

We went to Kassiopi for one night. We took a taxi which was quite expensive (13EUR there and 15EUR back + tip). Taxi can be booked from A&A reception. There is a bus but we never considered it, perhaps we should have. The harbour area is lovely and relaxed with lots of bars and restaurants dotted around. The main strip leading down to the harbour is quite a bit livelier with the bars being populated by a young/teenage crowd.

I can heartily recommend a restaurant in the harbour called "Uncle Simos", the food was the best we had during whole holiday.

Would definitely come back to Kalami again to lay on that beach and swim in that sea. But will definitely do Nicholas's next time.

Kalami is a very nice quiet resort set on the north east coast of corfu, it is very clean in the resort, the beach is of the pebble and shingle type which has a european blue flag which the locals are very proud of, With it being in a bay the sea is very calm and as warm as your bath water at home.

The resort has 2 or 3 supermarkets and a few gift shops.
there are 3 tavernas in the resort, The Kalami beach which does traditional Greek food, some international dishes and some local Corfu dishes, The food here was very good along with the service, Also has very nice views out over the bay.

The next taverna along the beach is the Thomas which is on a par with the Kalami beach in standard of food and price,The service here was slightly slower than the Kalami beach (but who cares your on holiday).

The next taverna along is the White house which does the same types of food but was a little more expensive and the portions where a bit smaller than the other 2.
In the next bay along the coast the Agni bay there was 2 or 3 more tavernas, this was either a 15-20 min walk along a twisty footpath in the trees, or a 10 min boat ride from the beach in Kalami(free when booked through the tavernas.
There you have have the Nikolas and the Agni tavernas, we only tried the Nikolas as you where made so welcome and the food was great, the food was comprised of Greek, international dishes and local Corfu dishes but was slightly cheaper than the tavernas in resort.

If your looking for a nice quiet relaxing holiday Kalami is the place.
The resort itself is very quiet but picturesque. There is only one decent place to eat in the resort and that is Thomas's place which served good quality food that was well presented and thought out by the chef. A nice menu with good variations. Excellent staff also. On the next bay (agni)is a restaurant called Nicholas taverna which i must warn was a disgrace. The food is the worst that I have ever had with no attention to quality, warmth, imagination or any effort whatsoever. Other people we spoke to also hated this 'cafe' whith ignorant staff who took exception to my complaints (you have been warned)!!!
Visit Kassiopi and Palaocastritsa for lovely days out. Boat trip to Greek mainland a let down. Hello to Paul and Denise who were a lovely couple who just got married after living 35 years over the brush and who made our holiday a very nice one. Would I go back again ? - maybe one day.
Not ideal for everyone,some would find it far too quiet.
If what you want is pure relaxation,superb taverners,breathtaking vistas and low key night time entertainment then Kalami is for you.
Location
View Larger Maps
Other popular destinations