Hotels in Nissaki, Greece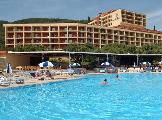 6 Reviews
Traveller Rating
Excellent

0

Very Good

5

Good

1

Average

0

Poor

0
Review Overview
Eating Out

Nightlife

Beaches
The beach is pebbly but nevertheless very pleasant. It is a great place to chill out. There are some water sports but they are not extreme / noisy and are more amusing than disturbing. There are a couple of beach side tavernas which are very pleasant to visit for a bit of refreshment. The sunbeds and parasols are the cheapest I have come across for years at E5 for the day per couple of beds and 1 parasol.

An out of the way place and very few tavernas or shops. We visited one supermarket which took 10 minutes along the beach ,owing to the season coming to an end the supermarkets stock was also coming to an end!

As far as we were aware there was no village /resort entertainment apart from the hotel. The nearest tavernas however were excellent for a social drink ( or two)

Beach standards were excellent, watersports amenities were there. Beautiful clear waters for snorkelling.

To get away from it all is a definite place to revisit again
very clean throughout, the shingle beach is only 10 feet away from the lovely sea,along the beach (within 5 mins.) are 2 tavernas the first flisvos owned by baros we spent most of our evenings before going back to the hotel and having a boogie (entertainment stopped at midnight), if you are more adventuous there are 2 bays in either direction (about 20 mins. walk away) which would give you more options,but if you are looking for night clubs etc. this is not for you!!
The resort is a little out of the way but you can hire anything from 4x4 to superbikes. I rented a CBR 600 for 1 day and i cost 17 euros which was great.
The resort of Nissaki is very quiet,a handful of tavernas,hiring a car to see the rest of the island is a must.

Nissaki beach is quiet but in peak season there are water sports for those looking for a little excitment.

This is for only those looking for total relaxation,peace and tranquility.
The resort was very quiet and relaxing with a few bars along the coastline good access to nearby more livley resorts if required. The beach was very clean but was a pebble beach so not much sand. Definately visit here again.
Location
View Larger Maps
Other popular destinations