Hotels in Lerapetra, Greece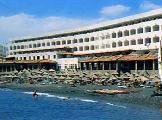 1
of 1 hotel in Lerapetra
85 Reviews
Traveller Rating
Excellent

12

Very Good

32

Good

26

Average

11

Poor

4
Review Overview
Eating Out

Nightlife

Beaches
We didn't venture far from the hotel but we did walk on the sea front a few times. The only thing that put me off the beach was the fact we saw people walking their dogs and not cleaning the dog poo.
Petra Mare hotel is great, Ierapetra is small and not much there.
The shops there are staff very friendly
Beach is great but water sports are good
This was our first time in Greece (always done Spain), I was anticipating picture postcard traditional villages, but it's all concrete and unfinished building sites. It's all a bit "unloved".
The promenade into town is full of graffiti and the buildings are not pretty. However there is a small Venetian fortress at the harbour which isn't concrete, and there are some nice shops in the main town selling euro-designer shoes and clothes.
We did the Minoan Adventure excursion (First Choice) which was a good guided tour of Knossos (the palace of the Minoan kings) and a 3-hour stop in Heraklion, which again, is not the prettiest place I've ever been to, but the museum has all the Minoan relics recovered from Knossos before some idiot archaeologist rebuilt the ancient site with, you guessed it, CONCRETE!!!
Heraklion Airport is a fun place to spend a couple of hours… You don't hand over your suitcases at check-in, they are just weighed (and charged, watch out…) and boarding cards are issued and then you take your cases to another desk where they go through the x-rays.
Then you proceed to the main departure area – apparently there are two "terminals", even though the entire airport is only about as big as our local Tesco, so you have to make sure you go through the right bit.
Once in the main departure lounge there are no big screens to tell you which gate to go to, you just have to listen out for it (there is one tiny TV screen very high up where nobody notices it).
The planes are all "parked" at jaunty angles all over the tarmac and you get the little stand-up bus to board the plane.
Our hotel was lovely but it will be a while before I go back to Crete!
Not impressed at all. People were the most miserable i have ever come across, with maybe 1 or 2 exceptions.

Resort cleanliness is not too bad, however, when you go to Chrissy island, which is supposed to be some sort of protected area, the first sight you are treated to as you leave the boat is a huge pile of bin bags and rubbish which must have been there for months. That said....once past the rubbish Chrissy island is quite nice.
The town was large enough to get everything from a new matress to a designer handbag.Hospital nearby and very good (3 euros to see the doctor- one person had to see the Dr due to having a prob with a henna tattoo)market on Saturdays some of the stalls required you to rumage for a bargin i did son delighted !great market for clothes and fruit/veg Pavements were uneven and at times high but clean.Shops opened at night till late found best time to visit them was after 6pm.Police station was next to harbour where entertainment was sometimes provided boat trips are avalable here also.A walk around the resort was interesting seeing the locals sitting outside chatting to family and friends at 9 10 at night workshops open repairing bikes, cars, boats lovely resort, never felt intimated or threated while walking on my own people very friendly. would go back to this resort there is enough to do for two weeks.
The beach at Lerapetra was kept very clean, you also had a good choice of water sports. If you feel like a nice walk you can walk up to the harbour, do a little shopping or just chill out at one of the sea front bar.(The cafe on the rocks was a hit with us and the holiday reps) All in all a very restfull holiday.
The resort was very quite and we did not go into Lerapetra much, but the town was lovely and lots of nice shops. The bus station is in the centre of the town, so access to buses if you want to travel anywhere. It took about twenty minutes to walk into town. Usual gift shops on the way, very nice jewellery. Not sure about entertainment because we did tend to stay and watch the hotel entertainment which was very funny most of the time.
the location was not too bad considering we went out of season the was alot open and the local restaurants were fab and really reasonably priced. the weather was amazing really hot but with a slight breeze due to the hotel being on the beach which i might add has great water sports, i have got to recomend the inflatable sofa ride. the beach was not exactly gorgeous as it is volcanic sand ( black )very hot to walk on but clean and soft. over all i would give this holiday an 8/10 and i would deffinately go back!!!
Not much to do in the resort.
Location
View Larger Maps
Other popular destinations