Hotels in Lakithra, Greece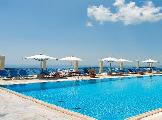 5 Reviews
Traveller Rating
Excellent

0

Very Good

1

Good

3

Average

1

Poor

0
Review Overview
Eating Out

Nightlife

Beaches
The resort of Lakithra is very small and very little there, but with Lassie not far away it isn't too much of a problem.
Depends on what you are after, a quiet get away its ideal but not for those who need pubs/entertainment, shops etc.
Lakithra is very picturesque and quiet - a very pleasant walk lasting 5/10 mins will get you to the village - big hill coming back so not a good idea in the hot mid day sun!

Could have done with a few more bars.
we travelled on 26th august-09th september we had a really bad time fight coming out which ment we was all really tierd when we arrived at kefalonia airport. The airport is only small but they are friendly staff and you are not long waiting around for luggage which is a good sign. There is 3 restrants in lakira that are around a 10/15min walk and 2 mini markets that are about a 15/20min walk which seemed quiet away when walking in the mid day heat. I would strongly recommend a car for your duration as everything is a big distance away from eachother. There is only one bar in lakira and its called george's bar he is a really nice friendly guy and its normally full of english locals who have moved to live in kefalonia.
I would strongly recommend lassi as a good tourist place to have nights out, its 10euro each way in a taxi, this can seem alot if your going every night, but if you have a car its better. in lassi there are lots of restrants to choose from and also shops to buy from, must try veronica's bar they have the best party nights ever and friendly bar staff.

Kefalonia is a very mountainous green island and scenically very dramatic.

We really liked the small traditional village of Lakithra and the surrounding area. There were 3 tavernas within walking distance, our favourite being the Byron where we had lovely food and very friendly service. Not much else in the village apart from a mini market, 2 bakers and a bar- very quiet!

If you have a hire car you are very close to Argostoli, where we spent a considerable amount of time both in the day and the evening. The nearest beaches were beside the airport or at Lassi.

They were all OK, but the Lassi ones were too busy for us, so we headed out to quieter spots. We had a car for the whole week and packed quite a lot in.

We really enjoyed our day out to Assos and Myrtos beach, and also the trip to Ithaca, although the roads there are even more scary than Kefalonia.

We would probably do a boat trip over if we went again, and not bother to take the car on the ferry. All in all we had a very enjoyable week and will go again if we can.
Lakithra is very quiet there really is nothing there although the Mouikis is a good base to explore Kefalonia, car hire is an absoloute must if you stay in Lakithra as the only mini bus trips are to Argostoli and Lassi and these get tedious after a while!!

Fiskardo by far the nicest resort on Kefalonia and well worth a visit, again car hire is needed as its a fair drive and if you book the trip through your rep you will pay lots!!!

To summarise, Lakithra a good base, if you can afford it stay in Fiskardo, ( we couldnt!! lol) Kefalonia as a whole is stunning and we would definitely go again!
Location
View Larger Maps
Other popular destinations