Hotels in Stegna, Greece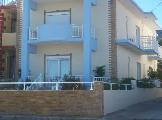 4 Reviews
Traveller Rating
Excellent

2

Very Good

2

Good

0

Average

0

Poor

0
Review Overview
Eating Out

Nightlife

Beaches
We frequented several tavernas during our stay and couldn't fault any of them. The location may be a little to quiet for teenagers, but there are waqter sprots and day trips available. A perfect chill our holiday for all ages. We will definately be visitinhg again, possible September or October this year
Beautful small resort - quiet, peaceful, clean and altogther charming. Mainly sandy beach and clean, warm sea. A few lovely cocktail bars and a pub-type bar if you want karaoke/greek night/John Smiths/Guinness (we didn't). Tavernas a bit boring - all served the same food - typically tourist Greek food - and all with rice and chips - no potatoes or vegetables (we were craving cabbage and broccoli by the 5th night!) This was our only gripe - a really nice up-market Taverna is seriously needed here. A bus at 8.30am takes you up to Archangelos Village (a very, very long way up the only road out of Stegna) where there are a couple of banks with ATM machines and lovely coffee bars. The bus back comes back down at 10.20am. A couple of hours here is more than sufficient. These buses also connect with buses to other resorts/Rhodes Town.
If your looking for a quite peaceful base, stay in stegna. The resort is one road that runs parallel with the beach. apartments and taverna's line the road about 10-15 so there are quite a few to try although we would recommend Aroma's, the food there was fantastic. There is a cocktail bar that stays open till 2am.

The beach is pebble/sand although there are some spots with more sand than pebble, water sports can also be found on the beach together with a rent a boat kiosk.

There is a bus that comes at 9am that goes to rhodes town via falaraki (falaraki water park is a must family day out - we went twice we enjoyed it so much and at 60 euro roughly £40 for a family of 4 its excellent value for money). The bus returns at 3pm although if you miss it taxi's are plenty and cost around 20 euro from falaraki, 25-30 from rhodes town.

There is also a free bus leaves stegna at 10.30am which goes to the town at the top of the hill where you can catch a bus to lindos which is well worth a visit. Stegna also has a couple of car hire shops if you dont fancy tavelling by bus.

In all we really enjoyed our stay in stegna and would recommend it to anybody after a quite peaceful holiday, although entertainment is not far away if your willing to travel.
The resort is very laid back with just a few really good taverna's, some supermarkets, shops and a music bar that does karioke on a wednesday night (good fun). Make sure you try the Stegna Star taverna (next door to the Stegna Mare)for excellent food and friendly service.
Location
View Larger Maps
Other popular destinations