Hotels in Comino, Malta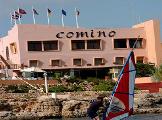 5 Reviews
Traveller Rating
Excellent

0

Very Good

3

Good

2

Average

0

Poor

0
Review Overview
Eating Out

Nightlife

Beaches

A quick note on the island of Comino. In the main the island is a lovely place but theres one part that is filthy and that is the blue laggoon. They really could do with sorting it out because I went there 20 odd years ago and it's really been ruined since.



This is a fabulous small bay,quiet and beautifully kept.
The entertainment was very low key and calm and everything would stop by 11pm. Although this was not really our cup of tea it blended in with the surroundings well and I feel totally relaxed so maybe this had something to do with it.

The location made the holiday a totally get away from it all. The quietness of the island and the limited number of people made you really unwind and relax, which is why we went.

This is a quiet resort if you wish to make use of all the water sport facilities that is up to you. we went to chill out and that is exactly what we did. be aware though that the local people do visit the island on the weekend and can be a bit pushy, but they do go early sunday evening.
We did visit the Blue Lagoon which is very pretty, but beware as the temperature rose the jelly fish come in droves making it impossible to swim there. I did feel that the cruise ships that visit the lagoon should be made to clean up after their visit, the hotel does have someone who cleans up after their visit. but we visited at seven in the morning before he started and the mess that was left should have ben taken with them.

If you wanted to shop then a visit to gozo Victoria Market is a good place to start.
Comino has a tendency to get overun with locals at weekends and on local holidays who travel by their own boats.
Location
View Larger Maps