Hotels in Golden Bay, Malta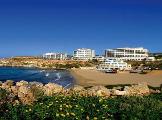 1
of 1 hotel in Golden Bay
11 Reviews
Traveller Rating
Excellent

1

Very Good

2

Good

5

Average

2

Poor

1
Review Overview
Eating Out

Nightlife

Beaches
Hotel- good. We had to attend a high pressure time share sales pitch which was relentless, 5 hours of facts and figures mixed with promises of vast profits to be made. Totally conned, i`m surprised Radisson allows this scam to go on in it`s hotel. I will never go to a radisson again and doubt i`ll see the money that i was swindled out of ever again. Rip off, avoid this thieves den.
This is a fantastic hiden gem of an area on one of Malta's few sandy beaches. Golden Bay is remote, so a car is a must, I understand that there is a shop and a bistro, but never tried either. On the beach there are a couple of snack bars, food is reasonably priced.
Golden Sands is just a sandy beach on Malta. There are two very good beach cafes, and one other cafe at the top of the decent to the beach. There are public toilets. That is about it.
If you wants sea and sand,the location is fine.
There is only one large hotel complex here.
Beach was beautiful. Not much around the hotel but as we went to chill out it suited us down to the ground. There are plenty of courteousy buses etc to get you around the island. The trips on offer are pretty good too. Car hire is there but we were too chilled out even to bother.
This is the second time we have stayed in this hotel.
The first time we were invited to stay on a special deal for the Timeshare promotion they have going.
We enjoyed it so much we went back this year.
If you hire a car the hotel is situated in one of the nicest parts of the Island. A car is a must in this place.
If you are after entertainment look elsewhere as this hotel is more for pampering and relaxing.
The breakfast is superb however I have found the rest of the food in the restaurants very hit and miss.
Overall I rate it highly and shall be returning.


Raddison Golden Bay Resort, the resort is exceptionally clean beach is cleaned every day, beach faclities include a couple of small cafe bars supplying hot and cold food drinks ices etc, very reasonably priced will be visiting again theis year 2008
Private beach area kept very clean. However when swimming walk towards public beach and miss the stones.

Water sports seemed expensive however if staying in the hotel you have no sunbed costs.
Golden Sands is very quite which is the attraction so long as the hotel is self contained but the Raddison is not. There is no atmosphere and very little entertainment except the stupid pool excercises to loud music at 5 oclock (first time I have experienced club 18 - 30 entertainment at a 5 star) There are a couple of local bars one on the approach to the hotel and one on the beach. This is our third visit to Malta and things are changing. It is becoming like everywhere else, infact you could be anywhere in the Med.
Dont get me wrong the beach here is a lovely setting but no one ever cleans it, theres rubbish all over it.

I saw a man with a tractor thing but it didnt pick anything up it just raked it. Saying that if you stay on the private part belonging to the hotel its a different story so bear that in mind.
Very pleased with the cleanliness.

The entertainment was very poor due to the fact that the resort was not complete.

The beach was only got to by a walk in the road as the access from the resort was incomplete.

We are visiting the resort again, but am very ashamed to be a member of the Island Residence club due to their lack of care for there members.
Location
View Larger Maps