Hotels in Marfa, Malta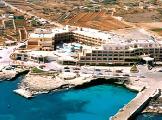 7 Reviews
Traveller Rating
Excellent

1

Very Good

0

Good

4

Average

2

Poor

0
Review Overview
Eating Out

Nightlife

Beaches
There's not really much to Marfa. It is really just a ferry terminal. Restaurants and entertainment are provided by the hotels. There is a tiny man made shingle beach called Hola Beach with a cafe. Good for visiting Gozo, Comino & the Blue Lagoon.
We spent a few extra nights after a 3 day conference and it was all worth it. Best place to relax and unwind. Situated next to the sea facing comino with a lovely small beach with palm trees a 100 yards away. Food is great especially the Bistro, definitely beats a few good restaurants that we visited on the island. Staff is great. We had a countryside view which was great enjoying the magnificent sunsets over a nice bottle of wine. The seaviews were all taken but nevertheless view was much appreciated. Great indoor pool and tried a couple of spa treatments. It is really a great place to relax. We shall definitely go back.
The resort of Marfa is very quiet and you can enjoy a quiet break with no noise at night and enjoy a good nights sleep. The area outside and around the hotel was sometimes messy with the Maltese people and fishermen leaving quite a lot of mess around the coastline in parking areas and on the jetty after the fishermen and ladies have gone home.

There was no entertainment to speak of outside the hotel but the newly extended hotel(probably now open)at Armier Bay might provide extra entertainment.We stayed at the Riviera Hotel from 5/3/05 room 320 for 28 nights and would without doubt go again.

Would love to see all the staff who were marvelous and go for long walks in the beautiful countryside again and to meet all the very friendly Maltese people we were lucky to have met on our holiday.

The coastline does have a few secluded beaches but mostly rocky unless you go to Comino(ferry outside hotel)or the amazing island of Gozo. The beach on Comino is small but a swim in the Blue Lagoon and exploring the caves is a great day out and the short boat trip is a worthwhile trip.We can not wait to go back to Malta again, everyone is so friendly and nearly everybody speaks English.

The area of Marfa is not a nightlife place for teenagers but excellent nightlife a bus ride away and a taxi ride back in the early hours after a visit to the clubs in St.Pauls Bay or nearby.

The good thing about Malta is that most places are easy to get to with enormous emounts of history to see and visit and the buses are an experience which could be compared with Disneyland rides but not to be missed.When using the buses try and avoid the express ones (as they are so called) because the fares are double that of the ordinary buses and they are not any quicker.

Anyway whats the big rush you have got all day. If you stay at the Riviera I am sure you will enjoy your holiday and the service all the staff give to all the guests and enjoy all that marvelous food prepared by the first class chefs.
Remote location so difficult to describe in terms of it being a 'resort'. No entertainment other than in hotel and no beach, though use of beach at nearby hotel available.
There is hardly a 'Resort' at Marfa. The hotel is the resort. It is an interesting little place with a lot of water activity. Locals were swimming off the rocks, visitors tended to use the hotel pools. Sea water the clearest I've ever seen. You can watch the fish. At the weekend, the locals visit and barbecue on the rocks. Not a teens/twenties place. Did not see even one person rowdy or drunk in the two weeks. Very international, we were with Russians, Bulgarians, French, Dutch, quite a few Italians and a very few English.
The hotel was clean as was the resort in general.

The entertainment was by singers or duo's who performed nightly (except Monday) and sang a range of songs from 50s 60s and 70s. For the resort and the area this was very fitting but don't expect lively entertainment as come 11.30pm it all stops!

Malta isn't renowned for its beaches and if you liked being crammed into a tiny space with fellow holidaymakers and a beach is a must then the tiny hola beach is a short walk from the hotel. The sea is clear and azure blue which is very inviting. One word of warning though watch the jelly fish they sting!!
Nice and clean hotel. There is a bar with either a duo signing or a man playing guitar nothing for children. Nice if you just want to unwind in the evening.


Location
View Larger Maps