Hotels in Port de Sant Miguel, Spain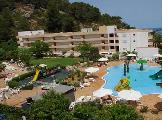 3
of 3 hotels in Port de Sant Miguel 2
of 3 hotels in Port de Sant Miguel 1
of 3 hotels in Port de Sant Miguel
100 Reviews
Traveller Rating
Excellent

36

Very Good

37

Good

17

Average

6

Poor

4
Review Overview
Eating Out

Nightlife

Beaches
Very relaxing resort, but we would not like to have a fortnight there, its just right for a week of relaxation
only 2 shops and 3 bars so only go if all inclusive as very expensive
lovely safe little cove beach,very clean,i saw the guy cleaning the beach at 7.00 am one morning,warm clear sea,although there are a few stones when you first get in,but great once your past those,but not a lot else there couple of restaurants,one bar caseys,quiet lively in there after the free beer has finished in you hotel,and a few shops for your papers and prezzies for home,so if your after a great quiet family holiday this is the place to go
Everywhere was spotlessly clean no litter to be seen.
The resort is small with a handful of shops supplying basics and tourist type goods. There are also a few bars with Casey's being the most popular. It cost me over 6 Euros for one beer and a coke which is a bit steep, but they are open til 3 a.m. which is why they are popular! Most of the entertainment centres around the hotels.
The beach is lovely with plenty of sunbeds (4.5 Euros) and parasols (4 Euros). It is clean and the water is lovely with a sectioned area for swimming. Parents of young children beware- it does shelve quite steeply! There is a lifeguard on duty. There is a variety of water-sports available, canoeing, windsurfing, sailing, pedaloes, banana boat and scuba diving, mostly at an extra cost. If you fancy going further afield there is a road train or local buses to get you there fairly cheaply.
Puerto San Miguel is a quiet, family oriented resort. Don't go there if you want to party all night long- that's what San Antonio is for...
Not much in the resort as mostly the accomodations are all inclusive good beach but beware as when we were there jellyfish had been spotted!
entertainment for the kids was fantastic,spent whole week at the pool,not enough to do at night for couples, all restaurants were lovely,we did prefer the one at the top of the road on the left hand side,it didnt look much from the outside but the food was good and reasonably priced,dont expect a visit from a thomas cook rep though,you need to check the panorama file in reception,silly me was looking for a thomas cook file? would certainly go back to san miguel

Its as it says in the brochure - its tiny! there are a few shops but don't expect much! You can only buy cigarettes in individual packs from the irish bar or fish restaurant. The pool with 'the monkey' was by far a better way to spend the day and a 5euro's a time was great value for money - most of the time we were the only people there! Its great if you want to be in a very small resort but for us it was a bit too small. The fish restaurant was fab & definitely worth a meal there.
wasn't a great deal outside of the hotel but wasn't a problem for us. we was only there for a week and there was more than enough to do at the hotel.there is an irish bar opposite the hotel and other guests said it was very good and didn't close till 3 or 4 in the morning! we didn't use it as we had a baby with us.

A quiet resort, with just a beach and usual water sports - kayaks, pedaloes, dinghys, windsurf, dive school, banana boat, twirling donut etc. Excellent cove for snorkelling with plenty to see without going too far out. Only 3 - 4 shops which cuts down on the spending. 1 cafe and 1 expensive restaurant at the beach side, more inland a bit. Buses are better than UK service buses and it was 2.95 euros for an adult to Ibiza town one way. Tobacconist is in San Miguel Village which is 8.50 euros one way - small selection only - you need to go into Ibiza or San An to get a better selection. I would definitely go back to this resort, but not in high season. Did not view any of resorts entertainment - you could hear the San Mig group from all over anyway.
Location
View Larger Maps Miramar Golf Hotel
Port de Sant Miguel, Spain
We were looking to get away for a week in Septembe…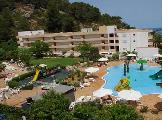 Balanzat Apartments
Port de Sant Miguel, Spain
Basic apartments, but everything you need for self…
Other popular destinations