Hotels in Es Canutells, Spain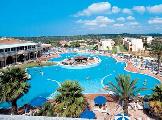 1
of 1 hotel in Es Canutells
20 Reviews
Traveller Rating
Excellent

2

Very Good

2

Good

9

Average

7

Poor

0
Review Overview
Eating Out

Nightlife

Beaches
the resort is small and quite ,one spar and three gift shops and two bars,theres not a lot else there apart from two small beaches that are very quite but this is what we wanted to relax,we would return no problem
The location is not the best for families at the moment as there is no beach! The local council are making a small beach in the cove that exists already and apart from the supermarket and a private Pub near the hotel there is only a seafood restaurant at the cove and that's it.
With only 3 0r 4 buses a day its very isolated and quiet.
We hired a car so it was a good base for us.
I personally would not return here as I like a bit more atmosphere in the evening with more choice of entertainmet.
There are 2 bars outwith the hotel one at the harbour/ beach the other below the hotel, next to the shops. I didn't go in to either, no point as we were all inclusive.
Unfortunately we couldn't go to the beach. They have had a problem with jelly fish (not their fault) but the top layers of sand have been removed and not replaced yet.
Beach a little rough around the edges and after a lot of wind the sea had plenty of jelly fish. We saw a local woman clearing all these away and then it was fine. Much much prettier if you go along the coast just a couple of miles some gorgeous tiny coves....hire a bike from reception if no transport but otherwise try the beaches that the hotel mar de menorca puts on free transport on for the guests
The resort is very small,just one hotel and two bars.There is no entertainment outside of the hotel. The beach is very small, water beautiful but beach is not kept very clean,lots of seaweed.

I would go back to this resort only because of the hotel.
It came as a bit of a shock coming from the UK to this resort, really clean, no problems, no complaints. The resort entertainment is a bit limited only the hotel or a nice bar located under the hotel, Chepas Bar, not really entertainment but just a great little place to escape for a drink and so good old british food, top marks. I know we were all inclusive but we all need a break, I would recommend a visit to Chepas, the people were really helpful and we had many a good night there. We are going to return to this resort next year, loved it.
Very small resort but extremely well placed for access to the rest of the island only being 10mins by bus from Mahon.
The resort was small with a few houses clustered around a small cove. One small supermaket and one fish restaurant was about it.Very quaint but not very entertaining! Miles from anywhere.You could get a bus to Mahon but that was it. To see anything you must hire a car and tour the island .
The complex is great but you reall need to get awy sometimes. We found a lovely little bar serving the best food around, 'Chepas', located just under the hotel, here you can escape the mayhem and relax with a good meal and a good old pint of British ale. Yes I know its strange coming on an 'All inclusive' holiday and buying food and drink, but you really get bored sometimes and need to escape, Chepas highly recommended. The beach is only about 200 yards away, sandy and clean with a few boats bobbing on the clear blue water, lovely. There is a restaurant overlooking the cove but we found it expensive for what you got, only went there the once, obviously paying for the view. There is not alot to do in es Canutells, a couple of shops, two car hire places, one little spar supermarket and of course Chepas bar. It suited us fine, we wanted a relaxing lazy holiday, thats what we got. Thanks to all the hotel staff and the great people at Chepas bar.
Es Cannutelles is not really a resort. It consists of the Mar de Menorca hotel, a souvenir shop, a spar, 1 bar and 1 restaurant and that is it. However if you hire a car it does not take you long to drive round the island. There is also a local bus service available but it is not very frequent. If you choose to stay in Es Canutelles you really would need to hire a car.

The beach at Es Cannutelles is a small horseshoe bay. It is lovely even if it is a bit on the small side. There are lots of fish so see in the water. The beach has a family of friendly ducks that keep you entertained. There are no sunbeds or umbrellas available on the beach.

Location
View Larger Maps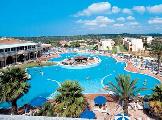 Other popular destinations