Hotels in Nuevo Horizonte, Spain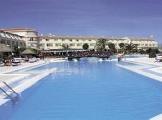 1
of 1 hotel in Nuevo Horizonte
18 Reviews
Traveller Rating
Excellent

0

Very Good

3

Good

8

Average

6

Poor

1
Review Overview
Eating Out

Nightlife

Beaches
resort was ok very quite not much to do but thart was ok for us
They have changed the name of this resort, I assume to encourage people to visit.
Resort was a building site. Half finished apartments etc but no building work at all during our week here. We guessed it was the credit crunch. Not a lot to do here, however ther are a few places you can go at night if you don't fancy a trip to Caleta de Fusta.
Kavanagh's Bar - all round eatery and pub, and evening entertainment.
Mustang Sally's - Much the same but beer cheaper
Katies - Opposite Kavanagh's. Irish through and through.
Chinese restuarant in same street.
Pizza shop (does great bread)

Once this complex is finished it looks like being a nice place. Most of the accom is either rental or private.
There are only three HOLIDAY hotels. This one, The ELBA and the Piramades

Go on book it, you'll be suprised
Resort still under construction, buildins half finished but no one working on them.
No footpaths except for costal path. This was superb, if you took a bag of peanuts with you, hundreds of chipminks came out of the rocks and let you feed them by hand.
Beach 2km away.
Wouldnt visit this resort but maybee a different part of the island.
baqu was a waterpark it was great mustang sallys brill beach very rocky
La piramide is a hotel in the middle of a building zone that looks abit like a war zone. The entertainment has to be got from caleta de fuste where ther is a nice beach. La piramide is in the middle of nowhere so not a lot to do the hotel offers no kind of entertainment
Nuevo Horizonte is an incomplete resort there is little to see or do there. A short taxi ride to Caletta de Fuste brings you to a vibrant bustling resort with nice resturants and beaches. An abundance of shops can leave the pocket depleted as prices are not cheap.
The beach was very good with bar/restartants dotted about sea water very clean no complaints about this area at all
Entertainment was ok at night and the restaurants were good
but would not return overall
Nuevo Horizonte is very much a resort in the making. Building was going on everywhere, but tourists who complain must ask themselves how resorts can develop without builing going on! I gave a 2 for entertainment but this suited us as we like a quiet holiday. Look forward to going back to see the changes wrought by all the building going on.
in all fairness the resort was nice and intend visiting again next year but to a different hotel.
Location
View Larger Maps
Other popular destinations