Hotels in Sant Feliu de Guixols, Spain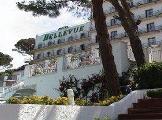 1
of 1 hotel in Sant Feliu de Guixols
7 Reviews
Traveller Rating
Excellent

1

Very Good

4

Good

2

Average

0

Poor

0
Review Overview
Eating Out

Nightlife

Beaches
I only got to the town/resort/beach Once, as the bus was'nt running, due to spains worst weather in 20years, great hey!
San Feliu is an old spanish working town. It's quiet and not for those looking for night clubs although they can be found in the near by town of Playa de Aro. San Feliu has a lovely harbour and walks by the sea. Lovely shops and bodegas. It has plenty of little bars and resturants and a good market on Sunday.
As I said above the resort is great for famillies and couples alike. Marine World is not far from the hotel as well as the water park. (Forgive me I cant remember what its called). Also the market on a sunday was great for shopaholics. The ice cream palours in the town are great they have some of the best ice cream I have ever tasted. For the best ice cream try Barbieri. Also it you want a great experience and atmosphere try the hard rock cafe in Barcelona. The tourist office in town can help you plan any trips you may want to take.
Everytime we visited the resort most places were closed and no english bars open, and it is quite expensive, the beach is very good and town is pretty clean
Sant Feliu De Guixols is quite a small fishing town. There's one club that seems to be mostly for the Spanish, so it's probably not ideal for anyone looking for that type of holiday.

There are plently of restaurants and bars to choose from, most serving lovely food. The town itself is mostly spanish speaking, so don't expect everyone to speak english - this didn't cause too many problems for us though!

The beach is man made, so it's not proper sand - a bit like gravel!! But there's always a nice breeze & you can go for a dip in the sea if it gets too hot! They have pedalos to hire, but I didn't see any sunbeds - we were happy with our towels!

I would definatley visit this area again - it's not 'typical' of an english costa brava resort!!
Not a tourist resort and was very hard to communicate. there was no entertainment at night, just restaurants and everything was shut by half 12.
The resort was excellent for those wanting a quiet time. There were a few clubs and bars in the area but nothing compared to Lloret de Mar for example, which was fine by me, because I wanted a relaxing holiday! There were a fair amount of restaurants, many down little side streets. There are some English bars, and I saw a German one too.

The beach is a man-made one, immaculately clean with clear water and pedaloes for hire, etc. There is a Life Guard on duty constantly during daylight hours and a First Aid hut which is also available in daylight hours. The tide stays the same practically all day, so no worrying about the towels getting carried away by the sea. It's also reasonably calm. Beware with children though, there is a drop in the sea - it's not a gradual increase in depth, but a rather sudden one (about half a foot in some places) about 5-8 feet out into the water. One of the best things is that the sand is more like a fine pebbles, no sand sticking to your suncream when the wind blows! It's still easy to walk on, but much more suncream friendly.

There are many good shops, lots of estate agents (perfect for dreaming about the villa you want!), a few gft shops (which aren't as tacky as many resorts I've been to), there are a few pharmacies and there are shops with things like lilos and other inflatables.

From the beach, there are excursions to other resorts in the area, e.g. lloret de mar, tossa de mar and blanes. I've heard it's good to go and see these, so if the price is right, do it!

From the 'tourist' point of view, the locals are not overly friendly to the holiday makers, especially British. The best thing to do is just smile... I'm sure this will annoy them more than if you complained!

There was a funfair there when we in San Feliu and it was a good night out, just to walk round and watch everyone trying to win giant teddies and getting thrown about on crazy rides. I think it would be very quiet normally, but if quiet is what you're looking for, then go for it!
Location
View Larger Maps
Other popular destinations