Hotels in Cap Salou, Spain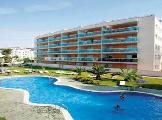 1
of 1 hotel in Cap Salou
14 Reviews
Traveller Rating
Excellent

3

Very Good

8

Good

2

Average

1

Poor

0
Review Overview
Eating Out

Nightlife

Beaches
The hotel we stayed in as a family was excellent. It was clean and tidy and very quiet which was important as we had a 3 year old with us. I would definately go back to the same resort and hotel as long as the weather was good. oh and the bar/restaurant did the best steak I have had in a long time!!!
cap salou is more suited to familys it is an ideal location if you want to be in a quieter area, salou and la pineda are very close so you get the beat of both worlds going to cap salou. highly recommend the smugglers inn and treasure island for food...
Superb beaches both in salou and La Pineda and relatively quiet this time of year. Portaventura theme park absolututy fantastic, recommend minimum 3 day pass, superb shows, rides and generally great fun!
Very good bus service ith stops approx 100 metres from apartment.
None of the local supermarkets where open this time of year however this made us go further afield and explore local towns eg Reus and Tarragona well worth the inconvienience.
Recommend day trip to Barcelona absolutly fantastic city although we where warned about pick pockets. Personally I'd give up the day job and move in permanantly!

Cap Salou is a quiet and friendly community, and only a Stone Throw away from Salou and La Pineda. It is clean and peaceful, and entertainment is wide-ranged. Children would never be bored from my view as there is many Play zones and things. It is worth a holiday for all ages. 20/20 from my eyes, definetly worth another visit.
we first had a five hour delay with thompson we arived at 4:30 in the morning the rep left the coach 2 hotels before our hotel and when we arived there the hotel reception was all closed as on a tuesday night it shuts at 8 oclock untill 9 next morning we was left stranded if it was not for the coach driver coming back the other way and seeing us there.. he put us up at a friends hotel for the night but to top it all the next day we found that someone else was in our room and we could not get in room untill 4:30 so again we was left walking around for hours
the rest of the holiday was ok the treasure island bar was cool great food staff in bar great as fo hotel never again.
Cap Salou is a great resort, again for families it is ideal as it has everything you need.

Without been overly busy, very central to vist Salou, La Pineda, Portaventura etc bus service excellent, would definitely go again.....
Cap Salou is a lovely peaceful resort about 10 minutes bus journey away from salou itself. There are a few bars and restaurants in the immediate area which are adequate. The beach is gorgeous and easily accessible.I liked the area because of its quietness which suited when we had our two boys with us and also because it wasnt too far from salou it meant we had the flexibility to go there if we wanted to the public bus service is excellent and cheap.
Resort of Cap Salou is quite nice, it is only 5 minutes by bus from portavenura, and has its own dolphin and water park. The beaches are excellent and very clean.

There is a good selection of bars shops and restaurants in Cap Salou with a lot of money changing facilities.

Buses run very fequently and are very clean.

Rubbish bins on every second pole so there is no reason for any rubbish to be dropped around.

The roads are clean, wide and have cossings all over the place to lead you to the beach.

Crossings dont mean you are safe to cross so I would double and triple check there isent any cars coming.
As you are between Salou & La Pineda you have to bus everywhere although the walk to La Pineda is downhill & manageable with young children. Salou very busy & really buzzing. La Pineda more relaxed. Both have long sandy beaches.

Port Aventura excellant but expensive & Costa Caribbe next door very popular. Saying that you spend all day there & would'nt have been the same if we had'nt gone. Local beach in Cap Salou small but popular. Lots of shops in Salou but all sell the same tourist things, football shirts etc.

All resorts felt safe both day & night with locals very friendly even bus drivers!
Cap Salou is about ten minutes from Salou on the excellent air-conditioned bus service which runs about every ten minutes. There's not much in Cap Salou, but you appreciate the peace and quiet at night. The beach is small but clean and it's easy to get to the bigger beaches in Salou by bus or even by walking to La Pineda, just down the road. In La Pineda there's a big water park which is good fun and of course, Universal Studios Port Aventura theme park is just a few minutes away by regular bus and is not to be missed. Overall great family holiday destination.
Location
View Larger Maps
Other popular destinations