Hotels in Kolocep, Croatia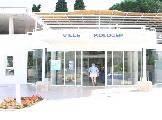 Request a room with a sea view.
7 Reviews
Traveller Rating
Excellent

1

Very Good

4

Good

1

Average

1

Poor

0
Review Overview
Eating Out

Nightlife

Beaches
Kolocep is a wonderful place for a very peaceful and relaxing holiday, the island is stunning we went walking around the island most days there were maps at the hotel they were not always the right route but that was the fun of it. the people were very pleasant and in the evenings we went to the local bar and had a wonderful time just watching the sea and the world go bye and a few drinks. if anyone wants a quiet relaxing holiday you must go to kolocep,there were four adults in our party and we would go back anytime.
Kolocep is a small quiet island with just two small villages. There is a hotel, post office, shop, fish restaurant and bar in one. I walked across to the other village, but could only find a restaurant and private houses.

There are two ferry services the state one which cost approximately £1 each way, and a private one which cost £4.
Apart from in the morning there is quite a regular service.
Tranquil and rural, Kolocep isn't the place for those looking for a Club Med-style holiday, with a few bars, three restaurants and no cars. It's perfect for those wanting gentle exploration, as the island is covered in paths leading to Roman ruins, secluded pebbly beaches and breathtaking sea views. The sandy beach right outside the hotel is small but not crowded. The historic walled city of Dubrovnik is a short ferry-ride (20 mins) away, and cheap, regular services mean you can easily reach the mainland and the other Elafite islands.

The island has a couple of bars and about 4 restaurants. The small beach is sandy, with a couple of pedaloes and canoes available for hire. The setting is beautiful.
The island is very nice for a day trip or even a few days spent there on an island hopping holiday, 2 weeks left us feeling more than a little isolated. You can walk across the island in about an hour. There is one local shop and the shop in the hotel, you can't even buy phone cards to use the one public phone.
Clean ,beautiful ,excellent. What more can i say?
My one fault with the place is that there is not much to do on the island. However you can take boat trips to Dubrovnik and other islands. THere is a small sandy beach beside the hotel, so if you just want to relax and enjoy the beautiful scenery, then it is for you. Routes for walking are very limited, and we only found one path across the island. There is a restaurant near the hotel with a spectacular terrace with stunning views.There is even a stoney beach area for naked sunbathing, if you are so inclined!
The temperature on the island is cooler than Dubrovnik, especially in the evening, due to the gentle sea breezes. This is definitely a plus for us fairerskinned folks unaccustomed to the intense heat.It was hot by day but
you would need trousers and a jumper for the September evenings.


Location
View Larger Maps