Hotels in Makarska, Croatia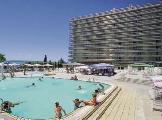 1
of 2 hotels in Makarska
2
of 2 hotels in Makarska
5 Reviews
Traveller Rating
Excellent

0

Very Good

2

Good

3

Average

0

Poor

0
Review Overview
Eating Out

Nightlife

Beaches
Markarska is a small town with the harbour as its focal point. It was very clean, our favourite eating place was the Biokova Hotel, where we had two sea bass meals with drinks for £15, beautifully cooked, what a bargain. The ferry runs three times a day to Brac island at £2.30 single in our money, 23 kuna in Croatian money. The weather wasn't very good just one nice day out of the seven, the wind blew a gale one night.
We would recommend a ride up the Biokovo mountains and a visit to Omic and a ferry to Brac.
Lovely resort, very quiet but a lot of shops etc were only just opening up for the season. Cafes are right on the waters edge-can highly recommend the Mucrum caffe. Pebble beach was clean, did'nt see any water sports because I think it was too early in the season. would definitely return to Makarska again.
We enjoyed Makarska but, having spent a fortnight there, would move on to another Croatian resort next time, as we have seen everything at this one. - that is not a criticism of the resort which we found to be just to our liking.

It needs to be emphasised that Croatia is only just getting back on its feet again after a debilitating war. There are no signs of the conflict around the resort, but one of the effects of the war has been to decimate the country's tourist trade and they are only just starting to rebuild it. The international holiday groups have only just started to return in the last 2 years.

Makarska is in a beautiful setting, with a breathtaking backdrop of mountains that rise 5,000 feet within a mile of the back of the town. The visual effects at different times of the day are quite outstanding.

However, there are no big commercial operators here - McDonalds and Burger King have not yet arrived. If you are looking for a big-disco evening out, you will be disappointed. On the plus side, though, the people are friendly and there are miles of (shingle) beaches to stretch out on.

We had the misfortune (for one of our weeks) to experience freak weather - not only wind and rain but, on the top of the mountains, snow. This is not normal for June ! but you should be prepared in the spring months for the onset of a local wind that blows down the mountain for 24 hours occasionally - the wind would carry a Hazardous Weather Warning on British TV.

All in all, Makarska was an attractive, developing resort with good views, beaches and a bustling harbour. Croatia is a beautiful country and this resort seems typical.

Undoubtedly it will grow and develop rapidly as holidaymakers start to return to Croatia - my advice is to enjoy it now while it is relatively unspoilt.
The harbour area was beautiful, and you can take lots of boat trips to other islands. There is a boat in the harbour that is a restaurant and does barbeques. The mountain region is breath-taking. There are stalls at the back of the hotel on a promonade and is a lovely stroll in the evenings and there is no hassle to buy anything when looking at the stalls. The people are very friendly, and there are plenty of places to eat and drink very resonably priced. The beach is pebble, and there are some coves that are for naturists.
Beautiful place. Very quiet [in May] although we did find good rock/blues bar up near square near museam.

Shops close at 13.00 till 18.00 so difficult to spend money even for me !

We are now hooked on Croatia best holiday in long time.
Location
View Larger Maps
Meteor Hotel
Makarska, Croatia
Food was always cold no variation also not very or…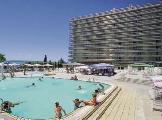 Dalmacija Hotel
Makarska, Croatia
The hotel is much nicer on the inside, don't be pu…