Hotels in Rovinj, Croatia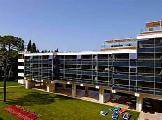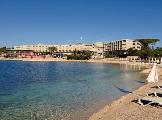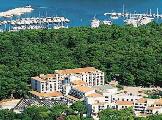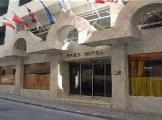 16 Reviews
Traveller Rating
Excellent

4

Very Good

8

Good

4

Average

0

Poor

0
Review Overview
Eating Out

Nightlife

Beaches
The resort of Ravinj is lovely and very picturesque.Although the weather was dull and wet for much of our 2 weeks there we greatly enjoyed the marina and the quaintness of the old town.Boat trips are run to the neighbouring islands and up the coast to Porec and even to Venice.An hourly ferry plies between Ravinj and Red Island with it`s luxury Istra Hotel.
The town and surrounding area were very clean and free from litter.We greatly enjoyed walking south around the coastal path through the extensive natural park with it`s little open air cafes en route.
Rovinj itself is very nice, cobbled streets, a lovely church and we had the pleasure of a music festival when we visited.

Quite cheap with drinks about £1.50 for lager and £1.20 for a coffee.

Beautiful setting and pictire postcard views.
What an unspoilt resort - not a British Style Pub in sight.
Plenty of good bars and Italian influenced resturants around
the wonderful harbour.
Care should be taken to walk up the slippery cobbled streets
towards the church, but well worth the effort.
Rovinj is a stunningly beautiful little resort.The veiw of the harbour and the church on the hill are breathtaking. The old town with its narrow streets and abundant shops and cafe bars is spottlessly clean.Plenty boat trips leave from the harbour every day to Porec ,Pula and many little islands off the coast.
Rovinj was a lovely little town with loads of history and quaint, narrow, cobbled streets leading up to the Church on the top of the peninsular. The harbour was always busy with various sized yachts coming to and fro.
If you are a "beachy" person, you would be disappointed in this area. However, this did not worry us.
We visited Pula and Porec via the local bus service. Their time-keeping was excellent.
hotel park rovinj, excellent hotel the best views over harbour and rovinj old town. very friendly and clean hotel, ask for seaview room with balcony to enjoy those amazing views. pools good lots of sunbeds,food good lots choice for everyone. visit venice by seacat excellent day out! Rovinj very old and pretty cobbled streets lots of places to eat and drink, amazing ice cream. booking 2 weeks next year.
Not a beach as such but good accessabilty to the sea and water appeared clean. Entertainment was available if you wanted it. Apart from dog poo, clean resort.
Rovinj...scenic and tranquil.
I agree with all the point already made…..it is a beautiful place. I am adding facts and tips to the previous reports.

There are several bays to the south of the town, with woodland behind, so it is easy to find shade. We went to Lone Bay. The area does not get too crowded except further round the bay where there is a café. A doughnut/pastry seller comes round a few times a day too.

There is no sand; there are rocky platforms or a few gravelly sections to enter the sea from. You can sunbathe on the rocks or the grass. It is better than it sounds. Lizards scuttle over the rocks and there are little black crabs. (The sea is good for snorkelling or exploring rock-pools). Plenty of butterflies and we weren't bothered by flies (or mosquitoes at night). Jelly shoes as advised in an earlier report are available everywhere (price about £5) but please bear in mind that although they make the rocks easier to tread on, the wet rocks are still slippery! As my backside discovered on the first day. It is also a good idea to buy some foam mattresses (£5-7) or air cushions (£3) to sit on.

You can walk or cycle on loads of paths round the area which has several names (due to the history, Italian, Austrian and Croatian names abound, which can be confusing) Punte Corrente, Kurent Pt or Zlatni Rt (you can find maps etc. on the internet at www.inforovinj.com) although we still got lost! The area would be good for babies as there are level paths and shade, I'm not so sure about young children because of the lack of sand and the deep shelving sea. But the local kids seem happy enough…..

There are several boat trips from Rovinj. Boats go from the main jetties and sometimes from the Delfin harbour behind the public swimming pool near Park Hotel. The nearest island is St Katarina, I must admit this is probably only worth a short visit. Red Island/St Andrews/Crveni Otok is a better option, there is a bigger hotel here, some picturesque old buildings and more beach area. Sadly the little island joined to it by a causeway is rather barren at the moment, as apparently it was devastated by a storm a few years ago.

We went on a "fish picnic" trip up the Lim Fjord with the yellow Delfin boat. This was really good...but remember to take your swimming things.

And of course the there are trips to Venice, we went on the Princess of Dubrovnik. Remember you will need some Euros for Italy. Take a book too as its 3 hours on the ferry each way. It was extremely hot and crowded in Venice and the harbour is a long way from St Mark's Square, so take some comfortable shoes, but it was well worth the effort, and we've got some great photos. We chose to have the lunch arranged by the tour (as we had not been to Venice before). It was €15 I think. The meal (we chose salad) was fine, with wine and water included and ice cream, but the restaurant was cramped and we had a long wait. However it was too hot outside to walk far, so it provided a nice rest, but you must make your own decision what to do.

The old town of Rovinj is great to wander round, day or night. We went up the church tower – this is not for the faint-hearted as there are about 15 flights of wooden steps and a ladder at the top, but the views are amazing. There are some public loos at the market, near St Euphemia's Church, and at the northern port area. They cost 4K (40p) but you may be given a free postcard of the town as well!

We also went to the Aquarium, which is nearly out of town past the northern port area, in an old pink house. It was lovely and cool in there, and the contents of the tanks were beautifully displayed. There were all sorts of sea creatures including an octopus.

We didn't find the main shopping area until our last evening, as we had been too busy wandering round the old parts of town, but the supermarkets we had visited did not have the range of consumer goods you would expect in say, Spain, but relied more on the staples. Locals would come to the beach with a bag of grapes or little green pears for their picnics. Plastic bags are not given out freely either. There is local wine and beer, and of course we tried slivovic plum brandy, which is an acquired taste…but it is great on Venice-induced blisters (and a shot of it also deadened the sound of the "dweeb bird" which I now discover was a Scops owl, which hooted forlornly outside our bedroom window all night)

Another tip which I made in my hotel review, is that the electric plugs in Croatia seem to be different from the 2-pronged schuko plugs, the prongs are slightly narrower. You can buy adaptors in Rovinj for £2.50 in the electrical shop, if you're not sure what to take.

The locals were all friendly, and there was a lovely relaxed atmosphere in the town, with tourists from many countries all enjoying the beauty there. You will come home finding that you have not had time to do everything that is on offer.

We stayed in the resort of Rovinj which is very beautiful. it is worth a walk up to the church as the views are amazing. The old town of Rovinj is very much like Venice with very narrow cobbled streets and tall houses. A walk in the evening to see the sunset over the harbour is a must. There are plenty of places to eat and drink and everyone is friendly but not pushy. Lots of lovely ice creams! The resort and beach were very clean but the beach is rocks not sand.
Location
View Larger Maps