Hotels in Alykes Potamos, Greece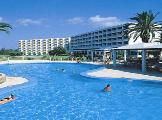 1
of 1 hotel in Alykes Potamos
6 Reviews
Traveller Rating
Excellent

1

Very Good

0

Good

3

Average

2

Poor

0
Review Overview
Eating Out

Nightlife

Beaches
We thought that Corfu town was dirty and untidy. The buildings were impressive but not look after. The small streets were nice to wander around to look in the tourist shops but the paths are old stones and very slippery.
The hotel is situated in a place called Alykes. I'd not really refer to it as a 'resort' as such. It's a long stretch of main road with a number of shops -not your typical holiday resort so not especially geared up to tourists as such.

If you're referring to resort entertainment, I'd score it a 1 and probably a 5 for hotel entertainment daytime and a 2 for hotel entertainment nightime.

It's hard to pick a fault with this place apart from evening entertainment so if that's not important to you, you'll not have a thing to moan about.

However, if lively varied evenings are important to your holiday, you'll really need to get out to Corfu Town 2 or 3 miles away. If you just want a relaxing chill, you'll love this place.

The private beach stretch is nice with fantastic views of the mountains from the sea. Watersports are available - not free though as many websites would indicate - and quite expensive.

It's a small sandy stretch as opposed to vast beach and, there's grass on the sea bed at the beginning of your stroll into the sea but that's not a problem and you get used to it.

Plenty of sunbeds available both on the beach area and around the pool (which is fine but not a huge pool so if you go peak season I'd imagine the pool area might get a bit congested -then again there's always the beach) so you don't need to get up at the crack of dawn to 'book your spot'.

Personally, I'd definitely return and the resort is definitely 4 star (guys - no t-shirts or shorts at dinner - smart casual order of the day but I ain't posh so it's not 'dressy-dressy' at evening meal - smart casual I'd say. Excellent place for families or couples of all ages and I'd guess that average age is about 30-50 - perhaps not lively enough at night to attract under 25s.

Can hardly fault it though - Kerkyra Golf hits the spot on most factors. My suggestion would be to take advantage of all of the facilities up to about 9pm, then head out into Corfu Town for night entertainment unless you go to bed or stay on the balcony in the evenings or don't mind sitting chatting around the hotel bars.
The only drawback to this hotel is it's in a very quiet resort with the nearest bars and restaurants a good 15 minutes walk in either direction so if you want a change of scenery it's a walk or a 10 minute taxi ride to Corfu Town. The hotel is on a bus route to Corfu Town and we did travel in by bus once but they do tend to be crowded and the taxi fare is only 10 Euro per car.
There is a bowling complext directly opposite the hotel and a small supermarket approximately 5 minutes walk away.
A very nice hotel for a relaxing, chill-out week long holiday but for those staying longer a hire car would be essential in order to get out and about mainly because of the lack of other facilities nearby, but we would certainly return.
Potamus - few shops along a very busy stretch of road.
Quite run down and nothing to do.
Blue flag beach but very sea weedy.
Not a resort to get excited about!
Corfu is a beautiful green island. We stayed near Corfu town and ports but didn't see a beach apart from the one at the Hotel which was smallish but never crowded. Sand and shingle but easy bathing with lots of lovely fish & no jellyfish! Shallow, safe water for nervous adults and children, very clear and many tiny hermit crabs which amused the children no end. Corfu has a lovely old part with lots of little shops and tavernas, good for eating and browsing. Didn't see much other nightlife but we weren't interested as at an All inclusive hotel!
Corfu Town was a great place to Shop and discover Greek culture
Location
View Larger Maps
Other popular destinations