Hotels in Glyfada, Greece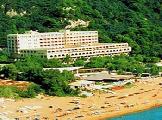 9 Reviews
Traveller Rating
Excellent

0

Very Good

5

Good

4

Average

0

Poor

0
Review Overview
Eating Out

Nightlife

Beaches
Beautiful sandy beach. Watersports. lovely clear sea. There is a great beach bar.
I would recommend this hotel to young families. couples and older people.
if you want a quiet relaxing holidy this is the perfect place to visit.
the resort consists of the hotel and a few tavernas the beach is great and is used for beach days by other companies but we never found it to be overcrowded
as i was all inclusive i didnt venture far from thr hotel but i can honestly say wot i did see was excellent beach was gorgeous clear waters and sandy beach you can get pedloes go out on the speed boat doing a varity of activitys doughnut rings ect.
it was all very clean with bins situated so that you can dispose of your rubish easily.
would i go again definatly!!!!!
Excellent sandy beach - quite safe for children. Water sports available. Life guards on duty between 10am and 5pm.
Three or four shops on resort, selling the usual holidays gifts, all very friendly. A really beautiful, picturesque resort set in the Corfu mountains!
The resort is in a remote area so wouldnt be suitable for people who like lots of nightlife and shops. It is a very relaxing place with a beautiful beach and lovely clear water.The sea was very warm and seemed very safe.The beach was very clean.
I liked the resort but I don't think it would be suitable for young people who would want clubs. Nice for kids & people who want a relaxing holiday. Its a long way from anywhere with narrow & bendy roads to reach the resort. Although I have driven in many parts of Europe, I would not like to hire a car here.There were BEAUTIFUL VIEWS!!!! down the coast to the south. I mainly stayed in the hotel complex & did not visit the top end of the beach. People I met told me that Glyfada was the best beach in the area. The sea seemed very clean & was safe for bathing & at my hotel there were lifeguards who seemed very alert & friendly.The beach facilities seemed good with lots of sunbeds & sun umbrellas available. However I could imagine this resort being VERY BUSY!!! in July & August. As I like quiet places & relaxing when I'm on holiday, I found this resort ideal!!!
Away from the hotel, there was little to do in Glyfada. We had a stroll around in the evenings but, apart from one or two bars and a couple of mini-markets, the place was pretty quiet. The area surrounding the hotel was reasonably clean and presentable. The beach was OK. The sand was a sort of yellow-brown and was littered with bits of debris presumably blown down from the tree covered hills...leaves, twigs etc. There was an abundance of cigarette butts around the bar areas but the cleaners were out in mornings sweeping up so it didn't appear to get too bad. The sea was very clear and seemed to be fine...however, it did get very rough on a couple of occasions and the red flags were flying to prevent swimming.


All in all....a good place to visit for a relaxing holiday.
The "resort" of Glyfada consists of the hotel, a supermarket and a gift shop - that's it, and its at the bottom of a steep mountain. There is a courtesy bus but the last one back to the hotel is at 2.30 in the afternoon so were therefore stuck there unless you paid for a taxi (about £30.00 return to Corfu Town). The beach is superb, lovely sand for the children to play on, clean and crystal clear sea with not a spec of seaweed in sight. There is a privately run watersports facility with banana boats, jet skis etc but unfortunately due to the weather whilst we were there we were unable to use any. It is a very pretty place with the mountains tumbling down into sea, we felt very safe letting the children (aged 5 and 8) play in the sea. A very quiet resort, ideal if you just want to get away from it all.
Beautiful beach but little to do........
Location
View Larger Maps
Other popular destinations