Hotels in Amoudara, Greece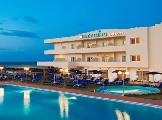 11 Reviews
Traveller Rating
Excellent

0

Very Good

3

Good

6

Average

2

Poor

0
Review Overview
Eating Out

Nightlife

Beaches
Visting in Sepetember out of season may have some bearings. The resort centres around one main road leading to the capital Heraklion. Most of the bars were empty however Stella Cafe seemed popular with friendly staff.
Around 30 shops in 2s and 3s are spread out along a 1/4 mile stretch whilst other buildings were empty.
The streets were tidy with very little litter but this was off set by the empty over grown building plots.
On an evening occasional locals drove down the street with their car stereos on full blast.
The road had an excellent bus service to Herakalion.
If all the shops were open it would not have been too bad but with the current climate it was rather depressing.
Very nice resort,quiet with plenty shops and a lovely beach.Our hote was situated right on the beach,very handy.
We personally wouldn't revisit Amoudara again. The location was good if you wanted to get into Heraklion but it didn't really do it for us! We went down the 'strip' a few times (and I do appreciate not everyone wants this) but it is nigh on impossible to get a Taverna/Bar which has Sky Sports showing. The beach, we found, was clean and each cluster of beds had a pot filled with sand to use as an ashtray and there were plenty of bins to be found.
We did not use the resort much, only for shopping, as our hotel had everything we needed. When we did visit, it was clean, quite busy and seemed to have everything you could need.
The resort is basically one long street with several shops but also the street is very busy in parts. Therefore people with prams and wheel chairs would have diffuculty walking the road.

The beach is nice and clean and always plenty of room with sunbeds etc to hire.

Regular buses to Herikion and reasonable priced.
The resort itself even though very flat is ideal for people with walking difficulties but not for wheelchairs as the pavements are narrow and there is quite a bit of traffic on the roads. There are plenty of bars and restaraunts but it is mostly wide screen tv there is no live entertainment, you make your own. The bus service runs into Heraklion every fifteen minutes and costs 1 euro 10 each way you can also stay on the bus and go to the airport at no extra cost (buses number 1 and 6) when coming back you have to catch the number 6.
The best part of the beach is by Franks apartments, here you get free sunloungers shades and tables and they are quite reasonably priced for drinks and food and if you don't like swimming in the sea you can use the pool.
The main resort was ok but you had a walk down a main road with no pavement to get to it
Amoudara is on the northern coast of Crete. The prevailing wind was northerly and created a very welcome fresh breeze coming straight off the sea. It is close to Heraklion, about 5 km. Cost of taxi from airport to hotel was 20 euros and 1 euro 10 cents by bus. It is also fairly close to the Palace of Knossos only a bus ride into Heraklion and a bus ride out each bus ride costs a standard 1 euro 10 cents. Bus tickets are sold in kiosks and shops/ mini- markets.

The Resort itself is basically a beach resort with a selection of bars, taverners, souvenir shops, mini super markets etc.

Entertainment is rather limited to bars and a couple of night clubs There is a small water park with water slides and on the beach you can hire equipment for windsurfing etc.

I wouldn't say the beach was dirty, however, there were empty water bottles and drinks cans lying here and there The beach is mainly sand but are places where there is shingle. The sea is whipped up by the north wind and can give the impression of looking dirty but that's only because of sandy sea bed being disturbed by waves and the odd bits of seaweed floating about. There is a power station at the far end of the beach but I saw people swimming in the sea quite close to it without having any apparent ill effects.
Whilst the hotel itself is fine, be aware that the surrounding area is quite run down, although buses run into the city of Heraklion from the stop at the end of the lane. A return ticket costs 1.40 euros and takes about 15 minutes. Heraklion is quite an industrial town but has a good selection of shops and restaurants in the centre.

If you go, I'm sure you'll have a good time!
The resort of Amoudara is a little run down - but slowly being revived, lots of new hotels are boosting the local economy.
The main shopping area is clean with a wide variety of the usual tourist shops, bars & tavernas.
Tourist train operates 2 or 3 different itineries - 2 hour trip to the 'inside village' worth the journey for the views alone.
Close proximity to Heraklion & Knossos, public buses every 20 minutes 1 Euro fare each way & from Heraklion to the palace ruins at Knossos (a definate must see) every ten minutes - fare again 1 Euro each way. The museum in Heraklion is well worth a visit - if only to see the Minos ring.
Plenty of watersports available on the beach, however the sands in some areas are strewn with litter and could do with some attention.
The sea was pleasantly warm given it was mid September when we visited and relatively safe & shallow for quite some distance - though there was a rocky 'shelf' 30-40 feet from the shore.
We plan to go back very soon - the ideal location for a relaxing, get away from it all holiday
Location
View Larger Maps
Other popular destinations