Hotels in Salina Bay, Malta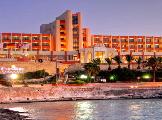 1
of 1 hotel in Salina Bay
18 Reviews
Traveller Rating
Excellent

0

Very Good

3

Good

6

Average

6

Poor

3
Review Overview
Eating Out

Nightlife

Beaches
Malta in general is full of history, if you are interested in religion, lots of churches etc.
The drivers are mad, buses ancient but fun. Found Gozo unintersesting, Mdina lovely, Valletta intersting. Tons of building everywhere, half finished. Some areas very dirty. Made me appreciate Cornwall where I live. Would not pay a second visit.
The Coastline is not in a resort as such. It is away from any hussle and bussle though it is nice to watch the locals congregate in the layby opposite for their evening barbeques. The pavements would not hold up in England but if you are careful where you walk you will be ok. There are no beaches as such just little bays all around. Yes we would most definately go back to Malta.
Salina Bay is not really a resort - just a quiet area on the outskirts of Qawra.
Salina Bay is just that, a bay. There is only one hotel, nothing else. Qawra & Buggiba are a short bus ride away, Sliema & Valletta a slightly longer one. To walk to Qawra would take 20 to 30 minutes, along a road with no pavement.
You come here to stay at the hotel, and for no other reason.
The Coastline is not in but near (long walk short bus ride)the 'joined' resorts of Qwara/Buggiba. Cleanliness is typical Malta. Often ramshackle off the tourist track but fine along the prom etc. Entertainment given 'middle-ing' 3* as we travel about a lot in a hire car and do not like the typical 'corny' local entertainment anywhere so cannot subjectively pass comment. Far better things to see and do! No real beach just one or two rocky paddle-ey bits. Would visit this locale again as its a good base for exploring the islands highlights plus ferry to Gozo etc
Malta is a lovely places to visit alot to see and friendly people. Lots of places to eat out and have a drink. Not alot of beaches, still if you have a nice pool that will be fine. Will be going back again.
Near to Bugibba, which we visted a couple of times, looked clean and had all the usual resort entertainment, the Hotel is outside the resort in a remote setting with nowhere to walk to day or night, the hotel runs a shuttle bus to Bugibba about every 30 mins
Salina bay doesn't have any entertainment, you either stay at the hotel of have to go to Buggiba, it also doesn't have a beach, but then again most of Malta doesn't have beaches
Location
View Larger Maps