Hotels in Bahia Feliz, Spain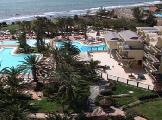 1
of 1 hotel in Bahia Feliz
56 Reviews
Traveller Rating
Excellent

4

Very Good

15

Good

23

Average

10

Poor

4
Review Overview
Eating Out

Nightlife

Beaches
very clean as you would expect abroad,entertainment virtually non existent , very stoney beach rough tides,
The resort of Bahia Feliz is only 20 mins transfer from the airport so this was a big bonus as we arrived in the middle of the night. It is very quiet with not many shops etc. We like to have a walk in the evening and this was not really possible at this hotel as it is an isolated resort. We decided to hire a car for a day and visited the sand dunes, drove into the mountains and visited some other resorts recommended to us by the rep. This was well worth it, and makes you realise that there are some beautiful beaches and resorts in Gran Canaria and that this one is one of the smallest. The hotel itself made up for the location and lots of guests took taxis which were reasonable in price. On the whole a super hotel for families looking for a holiday around the hotel with good food and entertainment. Would recommend it.
Sand on teh beach was too hot and the tide was a bit strong but if you hit the beach in the morning you will be okay!
The childrens entertainment was brilliant. Plenty to do for both my 9yr old and 2yr old
And plenty for me too.

The reps were amazing, I laughed from 11:30 Aquasplash til Samba at 23:00

BIG DADDY IS BACK
There is the hotel posibly 6 shops and 3 other bars, the beach is small and there is nothing else within walking distance. The best thing in bahia felix is the bar franky, this saved our holiday the owner is called Enrique and speaks good engish, serves snacks till 2 am (burgers, hot dogs and toasties) wish I knew this on arrival as arrived at 23.30 all hungry and hotel had nothing..
the cleanliness of this resort was very good and ongoing work seems productive too.
entertainment was not unavailable out of the hotel unless you paid for something via trips.
there isent a beach here just stones
The resort is out on a limb but that was good for us. A good range of shops and restaurants in the complex across the road. Buses handy and cheap - e.g. 8 euros return to Las Palmas, compared with 30+ on the excursion, which just takes you there and back. A tip - use the direct bus to Las Palmas, as Bahia Feliz is the first stop after the motorway. Route 1 goes through various towns and is much slower.

Charge for sunbed use on an inadequte beach. Sand looked like mud.
The resort was small but very nice. The canarian village just outside the hotel and apartments was quaint and we ate there every night, There are several restaurants serving a selection of foods, eg a chinese, a pizza restaurant and others serving a good selection of meals.
also in the village are a selection of shops selling souvineers,perfumes and clothes. The beach was quite rocky and the sea was rough but we were quite happy to stay round the pool. If you do want beaches there are beautiful beaches nearby. I would stay at this resort again without a doubt.
Bahia Feliz is a small quiet resort with accomadtion all around . It appears well kept and clean. Various bars and restaurants entertain the visitors and there are three small supermarkets serving day to day needs. There is a regular security patrol giving a very safe feeling. The small beach is rocky and has black coloured volcanic sand, but is quite pretty. Car hire is available at two or more outlets and a taxi rank offers value for money local travel
Location
View Larger Maps
Other popular destinations