Hotels in Isla Canela, Spain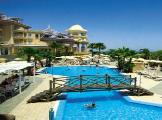 1
of 1 hotel in Isla Canela
25 Reviews
Traveller Rating
Excellent

6

Very Good

9

Good

6

Average

3

Poor

1
Review Overview
Eating Out

Nightlife

Beaches
The resort is very quiet so no good if you are looking for clubs. The marina has got 3-4 bars and a couple of restuarants a supermarket an ice cream parlour and 2 shops. there is a long promenade to walk along and if you want to you can walk all the way to the other end of the resort which takes about an hour!
You can walk over to the nearby fishing village of Punta Moral. If you need a chemist this is where you will find it.
There are local buses to take you in to Ayamonte. There is a free zoo there to visit, You can also take the ferry accross to Portugal to Vila Real San Antonio. About 10 mins crossing and only 1.60 euros each way per person. Lovely little place with loads of little shops mainly linens and such. Quite cheap as well.Would go back for visit again.
A lovely quiet resort, just a few bars, restaurants and shops to stroll to.

The beach is huge, clean with sunbeds and parasols and a great beach bar.

A beautiful place for a peaceful break.
The hotel is quite remote from anywhere.Although there is an hourly ferry to the town across the river and a bus service to the nearest town there was not much to do of an evening localy.
Do not go to this hotel during the weekend of 10th June. There is a local fiesta that starts on the Thursday and goes on non stop finishing on the sunday night. This is not a religeous festival it is an excuse for a nonstop rave with the very loud music pounding all night.
The resort was very clean, unfortunately it resembled a ghost town, all that was missing was the tumble weed going along the main street. It was October however which might explain this. The beach was lovely. The bars and restaurants in the resort were excellent, particularly Cayuelitas and the Australian bar, totally different but both good value and excellent food and service.
Isla Canella is a development area of half built flats and apartments, painted in drab colours and now left unfinished due to the financial situation. This makes the surrounding area very grim indeed, and this is what spoiled the holiday. Even the road to the hotel was a dirt track in places. One day I walked around three miles from the hotel, about an hour, and there was nothing any different three miles away, I was very disappointed.
There is a long sandy beach, but the water was cold even in August.
The only bus trip available was to Ayamonte was poor, the place was shut and uninteresting, buses were spasmodic. You really need to hire a car to get further away from the dismal surrounding area. I probably took around 20 photographs, normally on holiday to somewhere nice I would probably take 500!
Fortunately we only spent for 7 days there, I could not wait to go home, I counted the days.
We are not "beach" people normally but this resort has the best beach ever - immaculately clean with soft sand and lovely sunbeds. We were on the beach every single day!!!
The resort itself is fantasticlly clean with a long promenade for walking off the fabulous meals takenin the hotel.There are a handful of small select bars, all with very friendly staff and within a short distance of the hotel. There is also a gorgeous Marina opposite the bars so you can watch the boats coming in and out while enjoying your Sangria!!!!
Costa de la Luz is a beautiful unspoilt part of Spain and long may it continue. The beach is long and clean with some beach bars that have live music some nights. Ayamonte is about 15 mins away on the free hotel bus, which is nice to go to and mingle with the locals and do some shopping. The transfer time from Faro airport is about an hour and the scenery en-route is beautiful. Again we could not find fault with the resort.
We stayed in the resort of Isla Canela.
The resort was very quiet with only about 4 or 5 bar/resturants around the marina. However i beleive in 3-5 years the area will be more developed, not to Costa Del Sol standards but will have more to offer.
It was perfect for us as we wanted total relaxation (no hassel from anyone selling anything) A very clean and tidy area.
The resort is peaceful and relaxing, very flat for walking. A paved promenade extends to the next resort area about three miles away. The beach is huge and seems to go on for ever. We felt very safe day or night

The Marina is only yards away from the hotel with a central area having a mixture of different type bar resturants. There are a couple of Minimarkets to choose from. The Marina area will be a lot bigger in the future with at least 30 empty units ready for occupation as bars shops, maybe a bank etc.

The prices for drinks were basically the same in the outside bars and the hotel so a little price rigging I assume. No happy hours or cut pricing here. Three euros for a beer seemed the norm.
The resort of Isla Canella is very quiet. The harbour area is peacefull and scenic.It is immaculatly cleanand well kept. There are a number of small bar/restaraunts that are worth visiting for a change of scenery, although they are a little on the expensive side.
The beach (a short walk away) was also fantastic. Miles of wide unspoilt, uncommercialised beach area, meant you are able to take long walks, sun bath or build sandcastles till your hearts content....great stuff!
Location
View Larger Maps
Other popular destinations