Hotels in Elenite, Bulgaria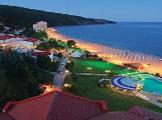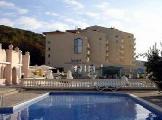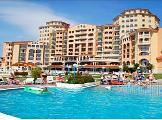 No need for restaurants if you are willing to queue
187 Reviews
Traveller Rating
Excellent

52

Very Good

61

Good

41

Average

22

Poor

11
Review Overview
Eating Out

Nightlife

Beaches
Elenite is a great complex for families. The beach has lots of facilities for you to enjoy, inflatables, pedalos, wind surfing, bouncy castes, trampolines, spinny thing.

The AI resort lets you drink at most hotels and bars on site and eat at the snack bars.

Very clean - cleaners always around.
Resort was very clean, even the seaweed on the edge of the beach is raked up manually. We used jet skis 55 levs, banana boat 15 levs and pedalos 20 levs, all great fun! We made full use of the waterpark, the Spa facilities and 10 pin bowling. We visited Sunnybeach by bus 3 levs each and Nessebar 4 levs. The entertainment could be better and a few more shops would be good. But the resort is excellent for a relaxing holiday and we felt safe so would go back.
The resort of Elenite was good and very much family orientated plenty of buses and taxis to go to sunny beach if you wanted a more lively resort
The Royal Bay is right on the beach,and we could see the sunbeds being moved by staff morning and night. A tractor came along and cleaned between the beds early in the morning so the sand was cleaned every day. We did not partake in the entertainment, but there was obviously lots to do for all ages. The Animation team was always about trying to recruit. The resort is not for those that cannot walk far, although it is flat, it is quite a long way to walk to catch a bus out of the resort. We went to Nessebar and Sunny Beach on the bus, and found it quite cheap. Only LV4 and LV3 respectively, single fare each. (LV about 50p)We would definately go back to Bulgaria again.
Super holiday, Elenite is immaculate, a pleasure to visit. Entertainment took place in the animation hall or in the nightclub (all inclusive)or pubs. The beach isn't overcrowed and there are plenty of free sunbeds. Dolphins swimmimg close to the beach provide a wonderful spectacle.After dusk the bunjee swings, slides and cocktail bar are fun.these are not all inclusive but worth a visit. the shops under the Royal Bay are a similar price, variety and quality as Nessebar and Sunny Beach. you only save a lev or two per item and you don't have to pay to get there.
visited sunny beach resort once on a shopping trip and it was fine,good shops,good food,no hassle off shop keepers and picked up some good bargains.
Elenite is a purpose built resport with just 3 hotels, it would be great for somone wanting a quite holiday or a relaxing honeymoon but there is nothing going on and everything is about triple the price of sunny beach.
I had good time here to be fair and the only issue was the food( but a very big issue as your all inclusive!!!), there is stuff to do here but it depends what you want really, a trip in to sunny beach ( or down town Benidorm as it became known)is ok a couple of times or a trip in to Nessbur on the boat for two hours is ok.Power cuts are often but that seemed to add to the fun, staff are ignorant and surly (unless your a lady)but again not over the top, do count your towels every day though just incase as they have it on there computor if any are missing, so just tell reception when your short. Bottom line as we found, the holiday is what you make it, if you are expecting gourmet dining forget it, it will not happen just check what you eat and you should be ok. oh yeah the pool is fine, cold when you dip in but fine when you get in (sorry but ear infections were rife from the pool, my girl caught one and there was 3 others in the surgery at the same time). Would i go again?? Would not be my first choice at all, but knowing what i know now i would again. Keep an open mind and try to enjoy, you,ve paid for it!!!
the resort was ok a couple of bars you had to pay for the drinks , one bar shut at 10 o clock i thought that was a bit early. but the nightclub was open till 1.00am but mainly full of teenagers
Clean resort, still alot of building work going on, but does not affect holiday.

Beach very nice, cleaned every evening, nice sand
Location
View Larger Maps