Hotels in Goyrnes, Greece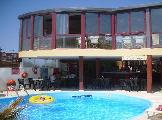 26 Reviews
Traveller Rating
Excellent

2

Very Good

4

Good

14

Average

4

Poor

2
Review Overview
Eating Out

Nightlife

Beaches
We hired a car for 12 days of our stay which cost £360, which was very resonable. Considering that the excursions fron First Choice averaged £55 we felt we had much better value with the car. The car enabled us to explore far more of the Island than any excursions could offer. I would highly recommend visiting Elounda as the beaches were by far the best we found during our stay. Gouves beaches were also nicer than those at Gournes. It took us 40 mins at ambling pace to walk to Gouves, which was a really pleasant walk. I would also recommend the water park for a fun day out. You must try the Gyros Pitter from Gyros Corner while in Gouves! I wouldn't visit again is beacause we never stay in same place twice.
We were surprised about the litter by the roadside and on the beach. However the fact we could walk straight from our appartment to the beach in less than 5 mins and swim in beautiful clear water more than made up for this. There is another beach about a 10 minute walk away also lovely and clean water. To get to deeper water you have to walk a long way out so it very safe for younger families.

We didn't go on holiday for entertainment although we did visit the CretAquarium which was excellent and fantastic and only a short walk from our hotel. We picked this resort as it was advertised as quietish. Plenty of tavernas and good choice of food within easy walking distance.

Overall we had a lovely rest. Were able to access local buses to Heraklion and Horsonissos. Not the place for teenagers who want to party which is why we chose it. The sunsets are absolute magic.
quiet resort, beach clean ,people are really freindly .
this holliday was on the strength of the reviews and we were not dissappointed at all the staff > irania, arsha and yannis (the kareoke king barman) were all fantastic he will stay open till the last man drops watch out for the shots yannis gives them out all night he is a top man we met some nice people there specially michelle and her family and still keep in touch.we will deffo come back here again . marti pam and alix a mention to the first choice rep gareth he was very helpful with anything we asked ps visit the water city park its brill bye .marti pam and alix
Gournes is very quiet apart from the constant aircraft noise day and night-you do get used to it but it was not what I expected from a "quiet" resort.The whole resort is lacking in atmosphere and seemed almost deserted which was good on the beach but rather strange in the evenings.However beware Sundays when the locals descend and the resort is packed out and there is no space on the beach . .
There is a beach about 100 yards down the road and it is quite nice, ive seen better but it is nice. Just along from gournes there is gouves which is lovely and more lively and gournes is dead, you get a taxi there for just 10€. Around the corner is a very nice aquarium and there are 2 or 3 waterparks very close by.

i would go there again and would recommend it if you're looking for a quiet holiday.
The resort was resonably clean. A few very good Tavernas with excellent food, reasonably priced(beware the free Raki!), otherwise no other entertainment but close to 2 other resorts with more nightlife. Buses and taxis are good, but we prefered to hire a car(and a Quad-twice!).Small beaches 5 mins walk from hotel but bigger beach at Gouves 20 mins walk(Quad!). Easy to get to main resort at Hersonissos for shopping and night clubs.Buses are regular, cheap and air conditioned, but if you want to really see this beautiful Island hire a car.Will be back!
Very quiet. A few tavernas and two very small supermarkets. No shops what so ever but you can walk up and along the main road to find a few gift shops etc.
Easy bus route to busier resorts. Buses extremely clean, reliable and cheap, highly recommended way to travel.
This resort is ideal for people you wish to chill out by the pool/beach. No watersports available locally.
Quiet resort, lovely beach, great tavernas. What more could we ask for. We were after a relaxing Greek holiday and thats what we got.
the holiday was really good ,set in a lovely place , i recomend it to all ages,good entertainment and situated in a area with shops nearish the resort and resteraunts in 10 minuit drive . beach was lovely ,clean beds and lovely clean sea ! i would visit again but we did have terrible trouble sleeping at night as a result of stray dogs barking all night continuasly ! air con was expensive for just 1 bedroom ! pool smallish . Hiring a car is definatly recommended .
Location
View Larger Maps
Other popular destinations