Hotels in Cala n Porter, Spain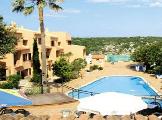 1
of 4 hotels in Cala n Porter 4
of 4 hotels in Cala n Porter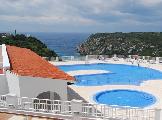 3
of 4 hotels in Cala n Porter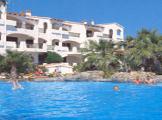 2
of 4 hotels in Cala n Porter
46 Reviews
Traveller Rating
Excellent

13

Very Good

15

Good

14

Average

1

Poor

3
Review Overview
Eating Out

Nightlife

Beaches
Very pretty but also quiet. Not sure if it was the time of year we went as it is right at the end of their season and there were many places closed for the winter. But there are quite a few bars/restaurants and tat shops. The vast majority of people on holiday there seem to be British or from the Spanish mainland and it has a nice quiet feel about it.

There are just 3 main streets with shops/ bars/ restaurants etc leading off from the square. All the usual places to hire cars/mopeds etc are available and there is a bus service to Mahon that runs several times a day.

I think you would probably get bored staying there for longer than a week. I can recommend The Village Pub and also Sa Paissa. There is also Flava, Salamander and Big Al's Steakhouse and a few other smaller places but we did not venture into them as they were closed for the winter. Beware if you smoke though, there is one tobacco shop and nowhere else sells cigarettes. If that is shut, you have to go to Mahon to get them unless you have your own supply. I also think younger kids would get bored as there is maybe one play area for them and not a lot else.

The beach is nice but it was shut for 3 days when we were there due to gale force winds making the sea dangerous. The actual inlet where the beach is beautiful and generally well sheltered from the storms/heavy currents.

The other thing is there really isnt much for small children to do, yes there is trampolines across the road from the Siesta Mar but they were charging 3 euros for 20mins, the Fun House, a bit further down were offering 3 euros for the whole day, although they only had one tramploine, they did have 2 bouncy castles and 2 soft play areas, so we ended up there most nights as we have a 3 year old and a 7 year old. We did not find any childrens discos or that sort of entertainment suitable for young children in the resort. Most of the entertainment was tribute bands which started about 10pm and were very loud, my 3 year old hated it and we could hear the music in our villa which was about half a mile away.
Also do not eat in the Salmandra - we choose it because it had a play area - thinking we could eat and the children could but there were so many hazards i.e big slide had two runs missing from it so small children cant get up it, swings would tip small children out, lots of trip hazards, uneven surface so you must be with them, so many parents would let the children play unsupervised and every time we were there we would see a child crying. We tried the resturant 3 times, just because all the other restuarnts did not have anywhere for the children to play and our 3 year old will not sit down for more than 10mins at a time, however we realsied they had overcharged us on our first visit and our third visit we left before our food arrived because we waited so long, it wasn't even the busiest part of the evening as we would always eat quite early.
the beach is lovely but does get very busy, yes there are quite a few steps but we used the road to go down and the steps to come back up so it wasn't that bad but I would try it with a buggy.
The resort is bigger than some I've stayed at - yes I have been to menorca many many times with and without children but I was abit disappointed there wasn't more for younger children to do in the evening so i would return
The beach was great, clean and you felt safe with plenty life-guards about who weren't just there for decoration, they did actually work...Kayaks and pedlos a bit expensive but good fun. Walk to the beach a bit strenuous with 180 steps to climb but I was fitter by the end of my stay!!
The restaurants can be a bit pricey, especially for drinks payed nearly £5 for a pint of Guiness in one bar, didn't make that mistake twice.
Beach beautiful but expensive (17 euro for 2 sunbeds). Steps a killer to get to and from beach but there is a minbus that takes you there 3-4 times a day. Resort generally small with approx 20 restaurants/bars and a few shops. 3 supermarkets, 1 pharmacy, 2 cash machines. Very expensive resort with a main meal and drink each costing approx 50 euro for 4 of us. Small market on sqaure twice a week with about 5 stalls. Entertainment on sq. at times but starts about 10pm. Good bus service to mahon several times a day for 1.40 euro each.
Good family friendly resort with all the restaurants offering childrens meals. The only draw back is the 180+ steps to the beach. Not to much of a problem going down but hard on the legs on the return. There is a mini road train that goes approx every 45 min from around 1000-1300 and again 1630-2100 for around 2.50 euros per person including children. I would recomend the following places to eat La Salamander Sa Paissa are both excellent. ElPulpo for something a bit more extravegant. The chineese is also very good. Stop restaurant is great for young familys as children eat free its basic but good food. They also have a play area.
Very clean resort variety of bars and restaurants within close proximity, would not recommend any restaurants we ate in as they were nothing special.

The Beach is lovely just like you see in the brochures, but there are nearly 200 steps to reach it, the Siestamar do run a courtesy coach which is essential. I did enjoy my visit and may possibly return in the future, I would certainly recommend it to families with young children
This resort was ok. Quite small, but had a decent amount of restaurants, bars and supermarkets.
Beach is what makes this resort.

Ideal for families. Don't let the steps to the beach put you off - we managed it almost every day with a small child with few grumbles! Recommend hiring a car to see the island as there is so much more to see (From about 70 Euros/3 days, 150E/wk). Getting the local buses was easy too. Bus to Mahon was 1.20 Euros each way, only took 20 mins. Without a car or taking the bus most people would get bored in this resort during a fortnight holiday. There are so many more gorgeous beaches to see in Menorca.

The resort is very english! If you like to have english food with the benefit of some sun this is the place for you. You get no feel of what the real Spain is like, most of the food is burger and chips, hot dog and chips, and roast dinners!!

The Sa Paissa was very good, and so was La Seista Mar for a selection of food with a more authenticity. There are a lot of English people living there so I suppose it is for their benefit.

The beach was clean though, and the steps weren't that bad to climb up. There is a train to the beach but that was 2.50 each way. I wouldn't go to Cala N Porter again as it really is England with sun.
Resort is very small and in October everyone is getting ready for closing for the winter. Eating out can be cheap is you find the right place, we spent most of our time at La Salamadra and Pitos. To go anywhere you have to get bus into Mahon and then on to where you want to go. Would definately go back to Menorca, but would go earlier in the season.
Location
View Larger Maps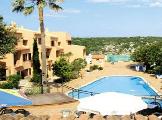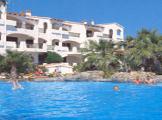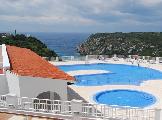 Playa Azul Hotel
Cala n Porter, Spain
just come back on 29/06/10 would recommend it to e…
Other popular destinations