Hotels in Obzor, Bulgaria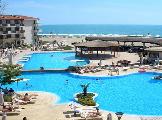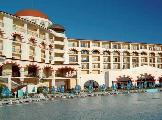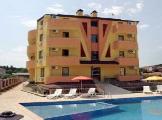 48 Reviews
Traveller Rating
Excellent

2

Very Good

10

Good

21

Average

12

Poor

3
Review Overview
Eating Out

Nightlife

Beaches
Lovely resort. lots of cheap shops selling FAKE gear. lots of bars and resturants. A great resort for familys with kids. This is a nice seaside resort.
We were here for 2 weeks, a week would have been enough. The beach was fantastic, warm sea and golden sand. Shame the rest of the resort didn't reach the same standard. The people were quite intimidating.
its a quite resort up and coming i would say and the people on the streets are very nice.the beach is very clean although the sea is a bit rough but all i can say is if your looking for a quite relaxing holiday go here

The resort is still under developed and may not be to everyone's taste

I only went out one evening (because of my son's age) and went to Khan's tent and that was very enjoyable however people did say the bar's in the town were ok

The beach was ok seemed clean enough bit of a shelf so not really suitable for non swimmers and young children
The jelly fish were causing some concern

I would like to go back to Bulgaria in a few years to this resort and hope they haven't made it into another "sunny beach"
very small place, a chill out place not yet commercialised , lovely beach lots of little shops where you can barter, but tend to sell tourist souvenirs and not many people speaking English they are how ever very friendly and do try, it is worth a visit to see how the locals live
We knew Obzor was a new-ish, small resort and that's why we chose it. Unfortunately, it wasn't until the penultimate day that we found town maps in English with various points of interest available for 2 lev from the newsstands.

Take time to stroll through the town, looking at the houses, gardens, fountains, birds etc and get a feel for Bulgarian life.
dont go to obzor if you thik it will be anything like sunny beach because it is not there are about 40 shops max all selling the same thing cheap toys and gifts menus in pubs etc very poor english if you like the quiet life do go
can not really say about the beach as we only went for about 10 mins because the sand was to hot to walk on but what we saw looked very nice there is a small fair ground and play park for children but the fair was very old dont go on the big wheel it goes round at about 40 mph scary or what food and drink cheap about ten poud for 3 of us to have a 3 course meal with drinks once you get the locals to understand what you want overall good if you like things slow if you want shopping and nightlife go to golden sands or sunny beach also transfer from air port shorter to golden sands and sunny beach
The resort was a lot bigger than I expected but still not geared up that well for tourism. There is little English spoken but this was never a barrier. There are loads of unfinished buildings although we never saw or were disturbed by any building work.

In the main square there is a number of restaurants serving tradtional and international food and eating out is normally the highlight of our holidays but on the occasions we ventured out of the hotel for meals none of our party of 3 were served our food at the same time - on one occasion there was a 15 minute delay between each of us getting our food! We gave up and stuck to the hotel after that. On a positive the food was cheap.

There's plenty of shops/stalls lining the streets from the beach to the town square however all of them seemed to be selling the same tatt and it's the first time I have ever been on holiday without bringing souveniers home.

The beach was nice as it was clean and fairly quiet. The sea was warm although there were loads of jelly fish which put me off going in! Other than the beach there's not much for children to do. There is a funfair but it looked old and dilapitated so I certainly wouldn't risk it.

On the whole we had a good time but this was due to the hotel being fantastic (Riu Helios Bay) rather than the resort. If the hotel hadn't been so good it would've been a different story.
The resort of obzor is a quiet resort. Its beaches are clean and made up of fairly course sand(not the usual white fine sand everyone expects on holiday) There are the usual water sports (parascending,jet skis and bannana boat) At the moment there are 2 small funfares. One just outside the hotel and one in the village centre. There are a couple of beach bars for refreshments and snacks which means if you are on the beach for the day then you dont have to move very far to get a beer and some food. The good thing about bugeria is that nothing seems to cost too much. Its very hard to spend money. A large beer cost about 1.3 lev. If you have named brands then they are more expensive but about half the price you pay in Britain.
We ate out twice in a superb restaurant at lunch called the Watermill which is one street down towards the beach from the clocktower in the main square. 4 adults had main courses(traditional bulgerian fare cooked in earthanware pots). salads, bread, chips 3 bottles of very good bugerian wine and 3 bottles of beer. This all came to 70 lev and we left a 10 lev tip for the excellent service.(£30)Very good value for money.Add another 30 lev if you have meat or fish main courses. (£10). So for £40 dont just eat in the hotel just because you have already paid for it try some of the local fare. You will be very suprised at the quality.
we have been very surprised at this resort. There is not the disco bars and late night clubs (although we were told there is one in the village) What there is is a very good resort with a good familly orietated feel to it. The Bulgerian people welcome family holiday makers and are doing everything to promote Obzor to this culture. We loved it. Its very slow paced and suits us poor old 50 year olds and our grown up children + our 2 year old grand daughter. Yes we would come back, we loved it. A very laid back and accomodating resort. Sunny Beach and Golden Sands for the younger at heart. Try it before the EURO makes it as expensive as all the other mediteranian countries in the EU have become
A smal village with 5 pubs and not much else.
Location
View Larger Maps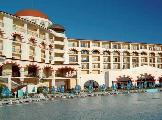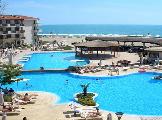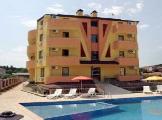 Tropicana Hotel
Obzor, Bulgaria
hotel was nice and clean rooms a bit small for 3 p…