Hotels in Koukounaries, Greece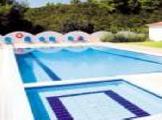 1
of 8 hotels in Koukounaries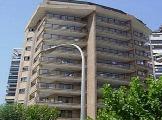 3
of 8 hotels in Koukounaries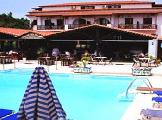 6
of 8 hotels in Koukounaries
6
of 8 hotels in Koukounaries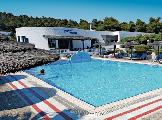 2
of 8 hotels in Koukounaries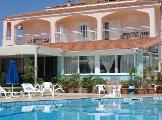 4
of 8 hotels in Koukounaries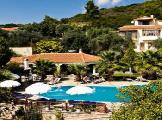 4
of 8 hotels in Koukounaries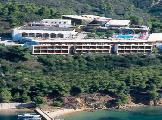 8
of 8 hotels in Koukounaries
25 Reviews
Traveller Rating
Excellent

6

Very Good

10

Good

7

Average

1

Poor

1
Review Overview
Eating Out

Nightlife

Beaches
Within 45 minutes (less if you hire a jeep) you can visit 8 fantastic beaches and even get an all over tan at Little Banana. The island as a whole has over 70 beaches and many can be accessed from the regular bus route between Skiathos Town and Koukounaries.
This is the second time i have stayed in Koukanaries and it is as good as i remember the first time i stayed back in 2007.
Koukanaries can be as laid back or as lively as you want it to be.
There are no nightclubs but Skiathos town is only 20 minutes away. The bars in Koukanaries will stay open as long as you want though! I must give a special mention to the team at Stamelos bar. When i visited in 2007 i gave this bar a wide berth because of the music which was playing. I was wanting a quiet, relaxing holiday at the time and Stamelos was not what i was looking for. This time was different! We visited on our first night ....and every night after. Dino, Efi and Lesley were full of fun and made us very welcome. Dino especially has a wicked, dry sense of humour and i have never seen anyone work the bar like he does. He is amazing to see in action!
As usual, i can not fault any of the restaurants or bars in Koukanaries. The village, Hera, Strofilia and Captain Michalis all worthy of special praise. There are so many good restaurants, explore and make your own mind up!
My only criticism of Koukanaries is that there is a drain which is quite foul smelling. I noticed this on my first visit in 2007 and the problem has still not been rectified. It is between the Agustera bar and Captain Michalis' restaurant.
I don't know what the problem is but it smells like an open drain. If you are walking by this area, breath through your mouth and you won't notice the smell!
Needless to say, this did not spoil my enjoyment of this wonderful resort. I can't wait to return!
Our hotel was perfect, but a few of the tavernas near by needed a good clean.The local beach is always very good offering something for all ages,the entertainment in the local bars was more for the teens- thirtys, we enjoyed what was on at our hotel but we had go into the town on most nights for more entertainment.
This was our fifth visit to Skiathos and we hope it wont be our last, we always recomend it to anyone, and aways tell them of its little short fall's
Fabulous, best place just to relax and chill.

Beach is fabulous and quality of the restaurants are great .

Cant wait to visit Skiathos and Koukanaries again
I liked Skiathos very much once i got used to it and the bus into town. The beach at Koukounaries is lovely if very busy, friendly access too, no steep hills to negotiate.
Not much to do in Koukounaries just a couple of resturants and bars which only served breakfast and lunch. but good for the sport on Sky.

The bus into Skiathos Town is packed and hot even the air conditioned ones. You are packed on like sardines not good when your standing and can see the bends in the roads up ahead of you.
Went on a couple of boat trips "Secret Skiathos" was nice but you were just taken around the island shown a few beaches and dropped at a few more, lunch was late and because of the early start (pick up at 9am) we were starving. The island hopping trip was great, visited Skopelos and Alonnissos, beautiful islands and good to see aound them, we even managed a tiny glimpse of the dolphines.
Only dampener on the trip was on Alonnissos we wanted to sit and have a drink by the harbour, the man greeted us at the H TZITZIOIA and sat us down but when we told him we only wanted a drink and icecream he told us he wouldn't serve us. He was acutally quite rude. It was almost 4pm by this time and as bedore having an early start we had lunched in Skopelos, but nevertheless he ushered us on our way and we found another place just around the corner.

On the whole i liked Skiathos but would have stayed somewhere nearer the road, was very hot when you visited, almost 40C and treking back and forth proved hard work.
The resort is very simple, a few tavernas and shops, but very close to some beautiful beaches which is obviously the attraction. Suitable for someone who wants a very chilled out holiday, with the beach nearby. Not too far to get to Skiathos Town though for a more lively day/night.
Koukanaries is a lovely laid back resort with very good access to Skiathos town via a 15 minute bus service. These buses can get very crowded so it is an advantage to be at the start of the route!
All of the restaurants are excellent and there are enough to allow you to eat somewhere different every night. The Hera, Strofilia and the Village deserve a special mention. If you tire of Greek food, thee is a restaurant serving Chinese and Indian food next to the Caravos hotel.
There are several good bars for relaxing in too, the Agustera was one of my favourites, my wife loved their Baileys milk shakes!
The eastern side of the resort is the much livelier part of the resort with several bars competing with each other to see who could play the loudest music.
Koukanaries beach to me is very overdeveloped in the respect that there are now 3 rows of sunbeds on a very narrow beach. It can get VERY overcrowded which is a shame as it is stunning.
I think it is better to take a 15 minutes walk up the road beside the Golden beach hotel to Aghia Eleni beach which is a lot quieter but still has lovely golden sand and stunning views to the mainland.
If you are feeling adventurous you can take a 25 minute walk through the lovely forest to the gorgeous Elias or Mandraki beaches. These are quiet beaches but again have lovely sand, great views and also sunbeds and tavernas. The only downside with these three beaches is that as they are on the west of the island you can often get strong breezes (although they can be a blessing in the hot sun!). To summarise, Koukanaries is a great place to relax away from the hustle and bustle of Skiathos town but with very easy access to the capital if you want a more lively night out. Reccommended.
Koukanaries beach is fabulous, and well worth visiting, wherever you stay on the island.

There are a reasonable range of tavernas in Koukanaries, we particuarly enjoyed the one attached to the Hotel Muses
Best restaurants in the resort Willis bar,ilias n madraki
Worst restaurants : Myrtia n Stamelos
Best bar : George's bar.

Most expenives bars: Next door-Myrtia- ( double prices no music no sky sports no quiz night no pool table no nothing)

Agustera - no chance for a single parents to chiil out there n drink here drink is peace !!!

Best beaches :Madraki ,koukounaries n Banana - fantastic sunset there !!!!
The resort was excellent nice resort and the beach was fantastic.

Very good restaurants Big Bad Wolf and The Village
Location
View Larger Maps
Other popular destinations