Hotels in Sarigerme, Turkey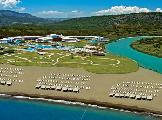 1
of 2 hotels in Sarigerme
Best Hotel we have ever stayed in and we have stayed in a lot through work and personal.
Do not book a sea view deluxe room.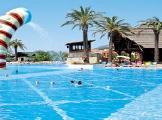 2
of 2 hotels in Sarigerme
218 Reviews
Traveller Rating
Excellent

10

Very Good

58

Good

70

Average

53

Poor

27
Review Overview
Eating Out

Nightlife

Beaches
The resort is a small village with a few restaurants and shops, as I was All Inclusive I only visited the market on a Sunday, i will say prices in the village are a lot cheaper than the hotel.
the beach was just down a pathway from the resort itself its surrounded by mountains and lovely landscape views. the rooms are kept very clean and yet again the entertainment was outstanding.
Got diddled by local dolmus driver whom we asked to drop us at public beach which I'd read was nicer than hotel one - he dropped us in village. Not much to see and I wouldn't bother unless you want something in particular, i.e chemist. Nowhere to wander to so not for those people who get cabin fever in hotel complexes!
the entertainment was brilliant the pools were fantastic and the beach was lovely too i liked the idea of having the water sports on the beach had great fun on the parasailing and the staff were so friendly and helpful.
The Holiday Village resort was very clean and tidy. Didn't get to see the surrounding area or do any excursions due to son's illness.
Lovely and clean, couldn't fault how clean and tidy the resort was at all times, but I was not impressed when staff came round with just cans of fly spray, while we were drinking. Entertainment mainly for children. The beach is beautiful, clean and clear, good things for the older kids but pricey. I would not go again because it didn't have much for adults to do, we mostlet went to sarigerme town, which is very friendly. We were bored alot of the time. We stayed in the Pegasus Palace side of the complex.
the beach could be made a little bit better as there is not a lot going on ,kids and hubby went parahgliding they loved it ,recomend this holiday 100 percent
The beach was very windy which was good to keep the heat off. The village was 20 min walk We did it once but took the Dolmus other times due to the heat They take any currency - money is money.The Dolmus runs approx every 30 mins costs about a euro but if you haven't got it they don't really worry as long as you pay something. Book the jeep Safari good value and fun. We went with Natural Tours up the main street near the market. Didn't go into the village at night but looks as though it would be fun
Resort is in the middle of nowhere.
Get a taxi from outside the hotel into Sarigerme for 10 Liras and go to Sarigerme Tours th1st stall on the right to bok your tours. We went on 2 days out with them and they were very cheap and the guys were very friendly and professional,we had a great couple of days out! They also come to the hotel to pick you up! Plesae don't book any trips with First Choice........their prices are ridiculous compared to the exact same trips with Sarigerme Tours!!
Location
View Larger Maps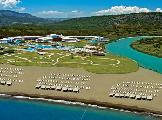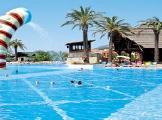 Other popular destinations