Hotels in Konakli, Turkey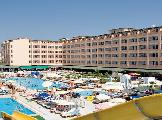 40 Reviews
Traveller Rating
Excellent

4

Very Good

3

Good

16

Average

8

Poor

9
Review Overview
Eating Out

Nightlife

Beaches
the resort of konakli isnt very big and not many bars there so for them you have to go into alanya the beach not bad but a lot of rocks
the resort was about 10 mins walk away not much to dom there and beware of the man with the camel and donkey he sits your kids on his camel and then trys to charge you 40 lira for it the beach not great very rocky would never ever return my son and nephew ripped there all inclusive band off when we was leaving and shouted were free
The resort itself is a clean and friendly place not too badly placed as konakli is only 10mins away and Alanya 20mins by bus .
Much info as above, need to get towels on beds as soon after 8am as posible.
resort cleanliness was ok. entertainment was poor but good if you were polish or german. beach standard was not good at all, no i would never visit this resort again, and i would not recommend it to anyone.
it was mint you cannot fault it..
Eftalia resort hotel its a discrace the beach was dirty normally you get nice sun umbrellas with straws no not this one it was four poles stuck into dirty sand with some old rag thrown over top of it to keep you cool from the shade. The entertainment was mostly sang in german or russian. The hotel was clean apart from the beach which was diabolical. do not go
Resort itself was clean bu t got to say our room cleaner could be doing with some training. She never once in 2 weeks cleaned our balcony we had 3 birds nests on it so you can imagine. She swept any crumbs on floor under couches etc. Beach was very rocky. Would go back to this hotel unless it was strickly no Russians or Geemans th soother nationallities were in total agreement with us. We got friendly with edme Dutch families and they were the same as us. Entertainment team tried their best but catered mainly for other nationalitil . Good hotel going to waste. Weather was Fantastiu. Will continue to visit Turkey but not this hotel. The rep didn't
my husband and i spent two weeks at this hotel, we found the staff extreemly friendly and helpfull, especially as i have something called ceoliacs decease which means i cannot have any gluten or wheat so it is very hard for me to eat out.going into the restaurant of an eveningwas very hard for me because you have to ask so many questios about the food so next morning i had a word with the rep and he explained to the man on the desk, the next thing i had a meeting with the restaurant manager who could speak english and the turkish chef on what i could eat and also what i liked and from then on my husband and i was cooked a fresh meal everynight and was dished up as a very good mouth watering dish the presentation was fantastic yes we would go there again we both though that i was treated with the gratest of respect and you dont see that a lot, the reast of the hotel was kept clean and tidy, room service is very good and you also get good phone card deal from hotel to phone home
Good clean resort and excellent staff. the entertainment is not our thing but im sure some people would enjoy it.
Location
View Larger Maps
Other popular destinations