Hotels in Baracoa, Caribbean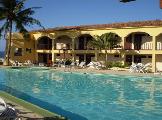 1 Review
Traveller Rating
Excellent

0

Very Good

0

Good

1

Average

0

Poor

0
Review Overview
Eating Out

Nightlife

Beaches
Barracoa is a lively little town with a 'malecon' similar to the one on Havana, albeit on a smaller scale. The seafront and much of the town was devestated by Hurrican Ike in 2008 and there is still evidence of the damage caused with much of the town looking rundown as a result. Work is still taking place to repair the worst affected buildings though it's worth noting that all the hotels used by tourists have been repaired/renovated now (July 2009).

There are a number of bars where you can expect to hear live music, a couple of discos and even a karaoke bar. This is a new concept to the Cubans and a very popular novelty but note that the 'playlist' is geared up to Cuban tastes and you won't find much that the none Spanish speaking visitor is likely to recognise.

There are two 'town' beaches set on the palm tree lined bay that the town is set on and which are poplar with lcoals but Barracoa is not the place for a beach-based holiday. Tourists looking to spend time on the beach are likely to disappointed by the quality of the beach and the lack of infrastructure (eg there are no beachside bars etc). If staying in Barracao then you're probably going to spend more time around the pool at El Castillo Hotel than on the beach. If touring the east end of the island of Cuba, then Barracoa is definitely worth spending a couple of days in if you can.
Location
View Larger Maps
Other popular destinations