Hotels in Costa Dorada, Caribbean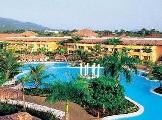 1
of 1 hotel in Costa Dorada
37 Reviews
Traveller Rating
Excellent

15

Very Good

14

Good

8

Average

0

Poor

0
Review Overview
Eating Out

Nightlife

Beaches
the resort is as you would expect from a tourist destination,everything overpriced.
The beach is kept tidy every day and the seaweed cleaned up before you get out of bed.You dont get bothered by the usual touts as the security staff keep them at bay.Loads of sunbeds and lovely warm sea.
This hotel being set in its own area,away from other complexes,was excellent.We did not go to other areas to check out there entertainment,as too much went on in our own hotel.If anything the beach area lets the standard down a little.Too much seaweed,and no effort made to clean it up.Seas could be a little rough,which made snorkelling impossible.But, as we spent most time by the pool,it did not bother us too much.One word of 'warning'.If you are thinking of hiring a car,and have never driven there before,the driving standards are very 'hairy' to say the least.As there is no MOT for vehicles,anything that can move ,is on the roads.No lights,windows,doors .wrong size tyres etc, can be seen daily.And motorbikes come at you from all directions, as most of them are the taxi service for the locals,and it was'nt uncommon to see up to five people on one 'bike'.Ocean World was the best outing we did,with a Dolphin encounter to really make our holiday.This hotel/resort is definately on our tick list of plces to return too.
As others have mentioned, there appears to be a lot of poverty however (quite sadly) many of the locals, including the children, are nothing more than professional beggars. When on the Monster Truck safari a group of locals set up a table selling pencils, sweets etc to tourists to give to the local children ! I would advise if you do wish to give here, bring from home and give to the school.
Beach was beautiful, white sand imported from the south of the island. We only left our Hotel to go on excursions....Ocean World....fantastic Dolphin swim etc...and Outback Safari...this included boogie boarding at a great beach and seeing the real Dominican.....family home..school etc. Nice little shopping plaza with an English pub, Phil's Bar, which although was small we did get to see the live premier football matches!
Would i go again? ....already booked for 2008! Iberostar Costa Dorada here we come!.....AGAIN!
the resort of puerto plata was very hot, you are not on the carribean side of the island so the beaches arent that real turquoise colour. if you venture outside of the hotel it is important to be aware that you are in a poor country so just be on your guard.
great great and well fantastic nothing else you can say about it
The Iberostar has it's own beach with one other Hotel nearby (Hilton Marien). The nearest resort is Puerto Plata which is about 10 minutes away and we did not go there other than to pass through on our way to Ocean World. It's not a very pretty place. At the moment there is a lot of redevelopment going on there along the sea front and when completed this should be a nicer place to visit.
We had the great holiday in the Iberostar Costa Dorada. We flew from Glasgow on the 19th July for 2 weeks. On booking our holiday we paid that little extra for the Premier Gold package through Airtours. It was perfect, smooth check-in at the designated check in desk. There were about 3 groups in front but it took no time at all. The My Travel plane took off on time and the flight was really good both there and back bar some turbulence which can't be helped. We had loads of leg room and a little entertainment monitor each. The entertainment was a choice of films (Inside Man, Chronicles of Narnia), programmes (Friends, Little Britain etc). The food and service was up to scratch too.

We arrived in Puerto Plata Airport and walked to the immigration area. I bought our visas from the Dominican Republic Embassy before we left which saved a bit of queuing. You still have to fill out the blue immigration form though. Once you pass that area you reach the baggage reclaim where you collect your bags off the conveyer belt. There were no other security checks after that as I have seen in Cancun airport Mexico. Fallow the walk way round to the exit door and find the rep from the company who you flew with and give your name and hotel. They will then give you your bus number. The heat will hit you like a steam train :o) Do not let anyone take your bag i.e. porters as they require a tip. The (Air conditioned) buses are not far away, directly in front of the exit of the airport. The buses will not go without you so take your time your on holiday.

Our transfer from the airport took about 15-20 mins. We were given our all inclusive wrist bands, room key card and resort info pack. We had the My Travel Rep who wasn't the most helpful rep in the world. To be perfectly honest she must be the worst rep I have ever come across and I have been so some pretty dire places including Ayia Napa and Tenerife on lad's holidays. If you want to be a rep at least enjoy it and the customers you are trying to please. Enough of the rambling!

We arrived at the resort and the lobby (reception) was beautiful with a pool in the middle with terrapins. We were greeted with an ice cold fruit slush drink which went down a treat after the long journey. The porters ask for your room number which they label your cases with. You then leave your luggage at reception where they deliver it to your room in about half an hour to an hour. We were given a quick tour by a member of staff. The grounds were stunning with a number of ponds with fish and fountains (Ideal for photos). Then you came to the pool, it is huge.

We eventually reached our room which was in block 7 on the second floor over looking the pool. We couldn't of picked a better one. The room had a queen size bed which was massive, a TV which had Sky, mini fridge full of (Presidente Beer, Diet Coke, Fanta, Sprite and Coke), the bathroom had a bath, shower, hairdryer and a large area around the sink for toiletries. For those who want to get stuck in to the free drink in the room the bottle opener is on the wall in the bathroom, for what reason I don't know. We also had a large balcony with 2 chairs and a table.

The food is very nice. There are loads to choose from for everybody.
Breakfast: Eggs (Omelette, scrambled, fried and boiled), Bacon, Sausages, Beans, Bread, Toast, Waffles, Pancakes, donuts, lots of freshly cut fruit ( Mango, Pineapple, Water Melon, Orange Melon…) selection of fresh fruit drinks and the list goes on……
Lunch: Chicken, Pork, Fish, Pasta, 2 different soups, Burgers, Hot dogs, Fries, Pizza, Salads, breads and selection of desserts.
Dinner: Much the same as lunch but with more choice of stews, curries, fish.

There are also the Al Carte restaurants (Tropical, Mexican and Brazilian). They were alright for a change but I much preferred the main buffet for larger choice.

There is a night club on the resort too called Route 66. We had many a top night in there drinking shots of Kamikaze, Sexy sexys and Sambuca. Say hi to the DJ nicknamed by us as Fatman Scoop (LEGEND). You have to get one of the burgers from the Mexican afterwards as they make the best food ever or maybe it was after all the drink

Trips: We took the Outback Safari tour which was very good just to see the scenery and way of life in the Dominican. Supposedly some of the film Jurassic Park was filmed on the island and no wonder when you see its beauty. The day finishes off boogie boarding at a beach in Carbarete which was awesome.
We also went white water rafting. This, I thought was a waste of time. The journey there and back was the total of 6 hours for a pretty badly organised rafting trip. This trip is not for the faint hearted as one of the girls we went with found out who fell in at the first bunch of rapids. Once you are on the boat you are stuck in it until the end as you flow through a huge gorge in the middle of no where. I wouldn't waste your time on your well deserved holiday.
We also went on the Rep organised Mind Benders Tour of three bars. You get a meal and 2 drinks at each bar. I didn't think it was worth the money but well worth it to get out of the complex and see some really nice bars. Word of warning the 2 free drinks at each bar only includes beer, rum and coke or rum and lemonade.

Over all our group of 6 had a wonderful holiday and would definitely recommend this hotel to everyone.

Phew finished! :o)

Location
View Larger Maps
Other popular destinations