Hotels in Las Terrazas, Caribbean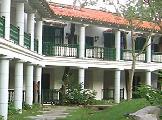 1
of 1 hotel in Las Terrazas
1 Review
Traveller Rating
Excellent

0

Very Good

0

Good

0

Average

1

Poor

0
Review Overview
Eating Out

Nightlife

Beaches
Las Terrazas is an eco-sustainable community up in the mountains in the Pinar del Rio Province so there's no beach though it is built around a very pleasant little lake! It would be useful to have a N/A option on the 'beach' drop-down menu!

It's very quiet little place with just the one hotel (the Moka) and not much to do other than walking in the Sierra del Rosario nature reserve and exploring the San Juan river. Built and designed to be self supporting community (based mainly on developing tourism in a reforested area in the nature reserve) it's a interesting place for a short visit. Its main claim to fame is that the very popular Cuban singer Polo Montanez was born and raised here and his home is now a small museum to his memory (he died in a car accident some years ago).

Apart from what's on offer at the Moka, there is an excellent vegatarian restaurant in the village and just a couple of small bars mainly patronised by the lcoal villagers. So this isn't a good place for anybody looking for a lively nightlife but it would suit walkers and trekkers (there is an extensive network of paths and local guiding services are available)and anybody looking to find out more about life in rural Cuba.


Location
View Larger Maps
Other popular destinations