Hotels in Praia da Oura, Portugal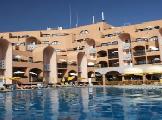 1
of 2 hotels in Praia da Oura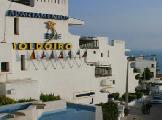 2
of 2 hotels in Praia da Oura
10 Reviews
Traveller Rating
Excellent

3

Very Good

4

Good

2

Average

0

Poor

1
Review Overview
Eating Out

Nightlife

Beaches
The resort is excellent for cleanliness, facilities and entertainment. The Strip is a bit cheesy in places but once you walk it once you will spot the places that will be to your particular liking. I would recommend the Tourist train (3 Euro per person per day) which travels continuously between the strip and Albufeira Old Town until past midnight. You can hop on and off as many times as you wish with a day pass.

The beach is excellent for sun bathing but beware of the shingle in the sea! the large beach leading up to the Old Town seemed to have less shingle.
Strip was very noisy but had some good restaurants and pubs. Old town was better, it had more character and was easy to get to by Noddy train, (3 euros return). Will return but maybe only for a week to the resort as you can only eat and drink so much!
The beach was clean and tidy with a few bars. There is one fairly long beach and other little coves if you are looking for a quieter spot!We had an excellent lunch at the Beach Cafe Bar to the left of Praia D'ora. At night we usually ventured to The Strip although quality of food is variable. Freddies at lunchtime was awful.Portofino and Costa Rica all worth visiting. Geordie Pride do a great breakfast. The best by far has to be Paulus Italian which runs parallel to the strip. It was so good we returned again on our last night.
We did go to the old town but as they were digging up all the main square it wasn't always enjoyable although we did find some nice bars with live music later in the evening. On the walk into old town theres a great restaurant called Festa Da Praia. Well worth a visit especially for their 5 Euro lunches.
Proprieters were saying that in June, July and August you can't move on The Strip so this may well not be a good time to go but in April it was exactly what we wanted.
Albufera strip was very quiet but I suppose it comes with the time of year. Majorsewer repairs means the old town is basically a mess with a lot of bars unable to open. Exellent beaches
Didn't use entertainment.

Beach was wonderful - clean and good sun bed facilities (payabledaily) Nice little cafe on beach.

Good selection of restaurants in town.
What a clean place,no litter anywhere,pathways are a good standard - although every path is made up of thousands of 'cobbles'which the wife found it hard to walk on in her heals !,also some were a little slippy when wet.Entertainment on the 'strip',was the usual - football/kareoke/movies/singers/live bands etc.. but something for everyone.The beaches were excellent,lots of little coves and long ones,good sand/clean/lifeguards/warning flags very safe for young kids to play.Went to a few resorts but this was one we thought had it all,out of season but still busy - could be hectic come peak summer time ?
The strip was the main area of entertainment that we went to most evenings...... there wasn't much there for the single person tho at this time of the year and the drinks were expensive in most of the bars (5 euros each).
We also travelled to the old town of Albufeira which was about 10 mins down the road in a taxi(5 euros) we ate out at some splendid restaurants in the square whilst listening to the outside entertainment that was put on by local artists ....well worth a visit !!!
Lively by night quiet by day. Where is everyone before 1pm ?

Strip and Old Town equally clean and lively and plenty to choose from if dining out. Try to captains fish bar on beach at Praira D'oura - excellent fish and wine most reasonable priced in area.

Would definately go again -- very hot -- be prepared
We thought the resort was really clean and would definately return!!
OUT AND ABOUT
The Strip is a long street of shops, bars and cafes and restaurants - whatever you fancy you can get here. Most bars have Happy Hour until ten when beers are only 1.5 or 1.8 Euros and cocktails are 4 Euros.

There is no real shopping to be had here - all tourist tat. There are loads of liquor stores and it is worth compairing prices as they vary wildly. Alchohol here is also way cheaper than at the over priced airport shop.

BEACH
There was a high tide and overnight rainstorm when we were there which left a load of stinky seaweed and big stones on the beach but other than that it was fine. If you walk away from the main part there are some quieter coves. There are also some great rock pools to examine.

OVERALL
I was disappointed to find the Portugese people in shops, bars etc very unwelcoming - much unlike Spain. Only one person in a week made an attempt to be friendly - a common moan I found during the delay at the aiprort on the return journey.

Location
View Larger Maps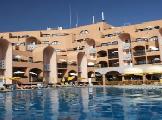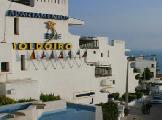 Soldoiro Apartments
Praia da Oura, Portugal
We have just returned from 11 days at the Soldoiro…
Other popular destinations