Hotels in Dalyan, Turkey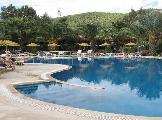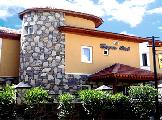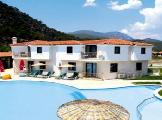 upper floor has great views of mountains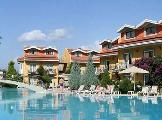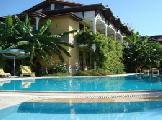 Try the Hammam and massage packages, they work out no more than £25 pound for the full Hammam, scrub, steam, sauna, and aromatherapy massage after. Bargain. Keep it to yourself tho
Stay at the central park hotel, you won't regret it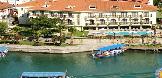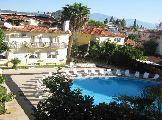 11
of 11 hotels in Dalyan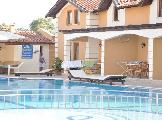 23 Reviews
Traveller Rating
Excellent

10

Very Good

11

Good

1

Average

0

Poor

1
Review Overview
Eating Out

Nightlife

Beaches
Dalyan, what a gem, if you like to explore, wander along to the jetty at the end of the main road (near the hotel entrance) and hire a boat for the day, Ramassen is the guy to ask for, blue crab fishing and a bbq in the lagoon is superb. If you fancy something different, Gohkan (Ramassen's son) can take you wandering in the mountains, swimming in waterfalls or dipping your feet in the glacial melt water at the stunning Yuvarlak Cay.
Dalyan is still fairly unspoilt and while clearly a tourist resort there's still a feeling of traditional Turkey about it. The town is clean and there are dozens of restaurants to choose from - I could recommend a few but would simply say we didn't have one bad meal.

There's no beach in Dalyan but a short trip on the river boat takes you to perfect unspoilt beaches.

Back next July !
Wonderful and then some on top!
I couldn't find a single negative thing to say about Dalyan, the people are friendly, lively, there is plenty to see and do, a week wasn't long enough.
The sightseeing and bars catered for us all (age range 7-54).
The locals are so welcoming and kind.
Wonderful Dalyan. Our second time here and while there had been changes, they were mostly for the good. You can walk through town in about 20 minutes, a vibrant main street full of shops and restaurants but no real hassle to buy stuff or enter a premises. I never saw anyone drunk or making a prat of themselves, no gangs of lads or lasses on the sessions. It is a family orientated resort and it is a place that makes you feel safe and welcome.
If you want discos and kareoke all night then don't come here, there are a few bars with Kareoke and some clubs but they all shut about 1.30.
The people are lovely and almost all speak good English.
There is a great Market on a Saturday, for all your fakes and Turkish souvenirs. One of the best bargains are the 5TL stalls, all items only 5TL. I got a Bench and a Calvein Klein T shirt, originals not fakes for a couple of quid each.
The fruit and veg market is wonderful. We got several kilos of yummy fruit and salad items for less than £2, in the UK you'd be looking at at least £12.
Izututu Beach is about 40 mins away by river taxi, costs 8 TL per person return and meander down the river, spotting Storks, Herons, fish and maybe a Turtle. The Dolmus leaves from the Mosque and costs 5TL per person and takes only 20 mins. It goes to a differant end of the beach.
The beach is superb, winner of The Times Best Open Space Award 2008. Miles of clear, warm water and golden sands. The beach umbrellas and beds only cost £1 for the whole day and the little cafes sell snacks and drinks ar reasonable prices. There is now a Turtle Hospital at the Dolmus side. Students from the Vetinary University work here to rescue and nurse Turtles who have been chopped by speedboat props or caught in fishing line. They had several huge turtles when we were there, all with some horrid injuries and a tank of hatchlings. Our youngest spend hours there and became a good friend of the students. Well worth dropping a few notes in their collection tin, they do a splendid job and the beach is a real showcase of how conservation and Tourism can work together.
The Post Office in Dalyan no longer cashes travellers Cheques, the bank does but at 5% commission. There are three ATMS and the PO will change notes.
There is a brand new 24 hour bakery just outside Ozalp Apartments, I loved this place, beautiful fresh bread, pastries etc and cheap as well.
Food well there is one big Migros Supermarket and a couple of butchers and one fishmonger, also a few small fruit and veg stores.
Restauarants all sell more or less the same items but the ones off the main drag are half the price of the front ones.
Our youngest had a mission to eat as much seafood as he could, this he did bluecrab, calamari, Grey mullet,Sea Bass, Sea bream and prawns. All delicious.
Ali Baba's- no menu just pick your dish from the cabinet. Good value
Starfish- Nice fresh fish but staff far too pushy and one of the dearest places in Dalyan
Careta Careta Pizza- Finest pizza I have ever had since Croatia. Excellant prices and nice staff.
Antik- Sat upstairs and watched the world go by. Nice Turkish Lamb casserole.
Golden Crab- Nice place do Indian food as well as crabs obviously, had the largest single Raki in my life here, only charged 5TL for what must have been a triple.
Kozem- Sold on the fact that the waiter had lived in Fife where I come from and could do a Fife accent. Nice food and staff
Ley Ley- is out of town but they will come and pick you up and take you back. Huge place with live Turkish music on a Wednesday and a Saturday. They have animals for the kids to look at. Food was good and not too dear, my mixed grill was the only bad meal I had in two weeks. Cooked to oblivion.
All in all a good holiday. Recommend Dalyan to anyone.
Dalyan is a lovely town in a gorgeous setting.
Huge selection of restaurants serving great Turkish food. Plenty of bars but night-life is relatively low-key. If you're looking for 'club-land' this is unlikely to be the place for you.
No beach as the town is inland on the river, but Turtle Beach can be accessed by river or Dolmus (30 minutes).

Dalyan is a small resort with lots of bars and restaurants, some of which are on the river, looking onto the rock tombs. It is also a working town, so still quite Turkish but English is spoken everywhere. There is a sandy beach nearby which you can access by boat or bus. There is not much in the way of resort entertainment, we did spot one karaoke bar. We would definitely visit again.
What can I say.
Dalyan is fantastic. Of course the Turks are going to fleece you of every penny you have but they do it so nicely. They see us as a commodity, a walking lira machine but you soon learn to play the game.
we took a private boat ride all day for £80 ( originally £110 ) including barbacue one of the best days we have ever had as a family.
Got to mention Ali Babas and Razaman Han for food. And LT's Bar kept the kids happy with the wii and playstation upstairs while we drank to the early hours most nights down stairs. All in all a very good holiday and a good learning experience.

Dalyan resort is on the river approx. 7km from,Iztuzu beach, and is a very relaxed place. We have visited before, twice last year,it is still relatively low key, but we have noticed a gradual change, there are more neon lights and the noise level from the restaurants and bars is getting louder.A number of Kareoke bars are springing up and the visitor age grour appears to be changing to a younger set.We jusy hope that the Local Mayor does not allow it to become another brash Marmaris type place.
It is still a lovely place to visit, and if you have not been before, please go now before it changes too much.
Hi
I have now been to Dalyan a few times and i just can't get enough of it. It is so beautiful, fairly unspoilt for a turkish resort. The people are wonderful as is the food. Everything about Dalyan is great.
Dalyan is a beautiful unspoilt place and I hope it stays that way.
Location
View Larger Maps
Other popular destinations